Decorative Prints.
Sir William Russell Flint
P.R.A., P.R.W.S., R.S.W., R.O.I., R.E.

---
---


Listed and illustrated below are a collection of 'open' edition prints, some of which were used for calendars.
These prints do not have any investment value and are purely decorative.
The signature on the image is part of the original painting, ie. a printed signature, and does not come under the term 'signed print',
which means it has been personally signed by the artist; usually just off the image bottom right.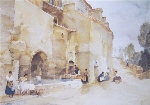 Rival Tale Bearers, Le Castellet
print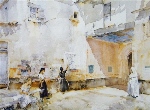 Rival Posters, Les Cabannes
print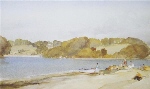 Picnic at Turnaware Point
print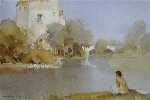 The Mill St. Martin d'Ardeche
print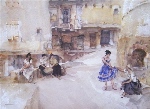 The Festival Dress, Cordes
print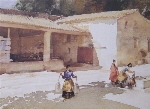 The Farmyard, Argilliers, Languedoc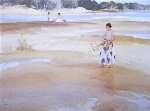 Antoinette and the Bathers
print
biography
models for goddesses
Isabella of Lucenay
lavoir la bastide
my father, Brantome
riverside washing, Laverdac
Under the terrace Brantome
Farmyard, Argilliers
Under the terrace Brantome
August morninge
Cecilia (red chalk)
Jesse and Jemima
Consuelita
St. Mark's, Venice
Eve and Yasmin
Bath of Susannah
red background
hedonists
cecilia contemplating Europa
variations III
privacy
Terms and Conditions