The Nile Ferry
Sir William Russell Flint
P.R.A., P.R.W.S., R.S.W., R.O.I., R.E.
---
---
Listed and illustrated below is an 'open' edition print, used for calendars.
This print does not have any value and is purely decorative.
The signature on the image is part of the original painting, ie. a printed signature, and does not come under the term 'signed print',
Signed prints have been personally signed by the artist; usually just off the image bottom right.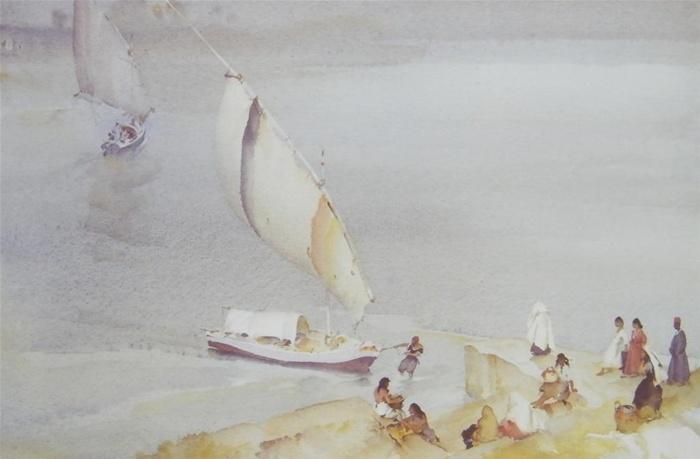 nile ferry
One of several paintings by Russell Flint during his trip to Egypt.
With great subtlety, Russell Flint has managed to capture the steady movemet of the river.
A signed, limited edition was published in 1965 titled 'Holiday after Ramadan'.
This most charming painting was indeed published, but as a calendar print.
These decorative prints, produced by Bemrose of Derby, have over the years become quite sought after by Russell Flint collectors.
Nile ferry
Barbaste
In classic Provence
roseneathfromaboveshandon
publishers
originals sold
Rival tale bearers
little terrace Vannavez
Gypsies and goats
book, Lisping Goddess
gleams and shadows
Boathouse
carppool, paintings, france
Original nude, le puit Paintings
The beach hut
Alexandrine and josette
Mill at st Martin d'Ardeche
originals, sold
castanets
dispute at the well
provencal sisters
original lady
camposantrovaso
article 1
carmelita