The Red Terrace
Sir William Russell Flint
P.R.A., P.R.W.S., R.S.W., R.O.I., R.E.
---
---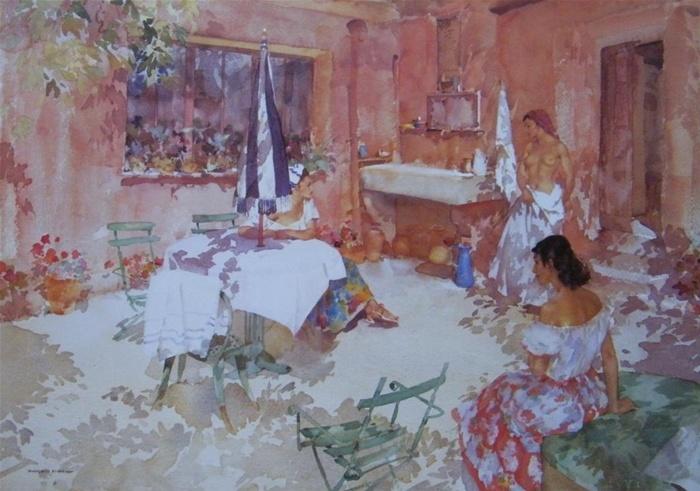 The red terrace is a calendar print of watercolour work done by Sir William Russell Flint using composition to create this piece reminiscent of the terrace architecture found from
buildings of the south of France many Cafes
Houses share a similar open floor plan for terrace spaces due to the natural light and warm springs/summers that becomes almost iconic whenever visiting the area.
Often there will be a tree near by sometimes bearing fruit to offer a form of natural shade from too harsh a sunlight and this can even be seen in the work
when looking at the shadows cast they are that of tree leaves.
Recognized worldwide as a master of watercolour painting, Sir William Russell Flint's work enjoys the prominence of some of the finest and most experienced paintings of our time.
You may also be interested to view two of our websites featuring the work of highly regarded wildlife artist, David Shepherd read more
and the signed prints and drawings of Britain's most sought-after artworks by L.S. Lowry read morehere. Sir William Russell Flint paintings and
signed prints for sale.
Should you wish to explore the area in France that Sir William spent so much of his time; This holiday house in the Dordogne can provide
a beautiful experience for those who enjoy the countryside and wish to visit the many towns and villages of great character.
town flag sospel
lucillaposing
Repainting Oar Blades
Russell Flint, france, Chazelet
in pursuit, book, deluxe
original, nude, drawing
originalpencilnude1
nun's class, la charite, print
raquel, painting
red chalk, drawing, new gloves
crowded beach, painting
campo san trovaso
nicollet, painting
the twisted chain, Cecilia, painting
studies-of-cecilia
russell flint drawings
Josefina
original-highshelf
The Mill France
conversationpiece
Rival posters
two sisters and a jetty, painting
four sisters, Chazelet