The Unexpected Spaniard
Sir William Russell Flint
P.R.A., P.R.W.S., R.S.W., R.O.I., R.E.
---
---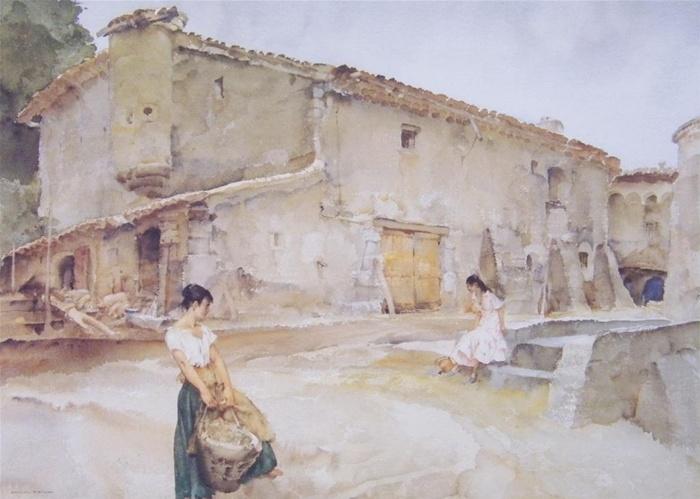 The Unexpected Spaniard

This print was published by Bemrose in Derby as an open edition calendar print.
The black signature, bottom right on the image, is part of the original painting, and not a personally signed print.
This title is purely decorative and has no investment value, unfortunately most are now badly faded.
Although, that said, calendars in mint condition can be much sought after as it has become difficult to find some images. The title gives the impression of this scene being in Spain, but the location was undoubtedly in France.
Two poses of Cecilia Green.. 'The unexpected Spaniard' obviously implying a story behind the painting.
The beautiful old stone buildings are very reminiscent of the Languedoc area in the south of France.
original-lavoirecologne
town flag sospel
lucillaposing
Repainting Oar Blades
in pursuit, book, deluxe
original, nude, drawing
originalpencilnude1
raquel, painting
red chalk, drawing, new gloves
crowded beach, painting
nicollet, painting
the twisted chain, Cecilia, painting
studies-of-cecilia
russell flint drawings
Josefina
original-highshelf
The Mill France
conversationpiece
Rival posters
two sisters and a jetty, painting
four sisters, Chazelet
original, lydia, red chalk