P.R.A., P.R.W.S., R.S.W., R.O.I., R.E.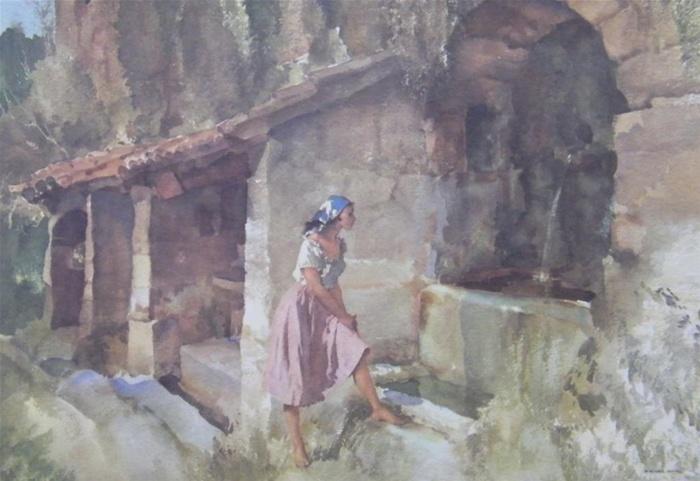 'The Wishing Well'
Image size; 13.5" X 9.5"

The French architecture of the well depicts a subject posing in front of a natural stream. Wells such as this are still commonly found throughout France usually near local town centres where possible. Although now a day being used as non-drinkable water more often than not these wells and sources are still maintained and functional.
If you are interested in agriculture or similar pieces that would compliment this decorative piece we would recommend looking at Farmyard at Argilliers which shares a similar architecture.
Recognized worldwide as a master of watercolour painting, Sir William Russell Flint's work enjoys the prominence of some of the finest and most experienced paintings of our time.
You may also be interested to view two of our websites featuring the work of highly regarded wildlife artist, David Shepherd read more
and the signed prints and drawings of Britain's most sought-after artworks by L.S. Lowry read more here. Sir William Russell Flint paintings and signed prints for sale. Springtime in the Ardeche
Drgon of Versailles
Should you wish to explore the area in France that Sir William spent so much of his time; This holiday house in the Dordogne can provide
a beautiful experience for those who enjoy the countryside and wish to visit the many towns and villages of great character.
Two models
Sandrine, red chalk
Portrait of Denise
fountainbr />
Gladioli
The little terrace
romanticcomposition