The Town Flag, Sospel
Sir William Russell Flint
P.R.A., P.R.W.S., R.S.W., R.O.I., R.E.
---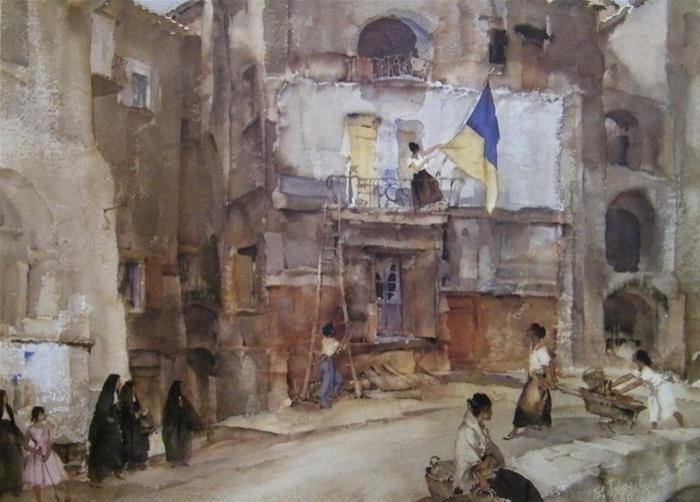 The Town Flag Sospel
Sospel is a commune and former schismatic episcopal seat in the Alpes-Maritimes department in south eastern France near the Italian border and not far from Monte Carlo.
To this day you can still find this area still looking ever so like the painting. The distinct architecture of the area along with a true feel for how life moves gently is very well depicted here.
This is also one of the few pieces to contain nuns seen here making their way from the market, as I would imagine with how many of Sir Williams pieces focus on the human body this would lend to
reason as to why there are fewer drawings depicting nuns.
Sadly there is little further information on the piece that we have, however we can surmise that the piece was likely created in 1920 during Sir William Russell Flints tour of France, Spain and Italy.
Should you wish to explore the area in France that Sir William spent so much of his time, this holiday house in the Dordogne (see here) can provide
a beautiful experience for those who enjoy the countryside, French architecture, and agriculture as well as the many towns and villages of great character just a short walk away.
You may be interested to view two of our websites featuring the work of highly regarded wildlife artist, David Shepherd read more
and the signed prints and drawings of Britain's most sought after artworks by L.S. Lowry read more
original, lydia, red chalk
prices
guild code list
Dianas secret vault
Courtyard caprice, painting
donkey, painting
silver and gold
portovenere, Italy
teresitas flowery robe
morning gossip, france, painting
painting, Languedoc, France
original gitanes
Moira Shearer
casildas white petticoat
sunlit bastion
Paris, watercolour
catalogue raisonne volume I
cecilia in june
four studies
question of attribution
basket of apples, Brantome, painting
Breakfast in Perigord, France
awkward encounter
sleeping favourite, original
reclining nude II, limited print
unexplored city
unknown, decorative, print, france
river Gard, Languedoc