In Classic Provence
Sir William Russell Flint
P.R.A., P.R.W.S., R.S.W., R.O.I., R.E.
Listed and illustrated below is an 'open' edition print, used for calendars.
This print does not have any value and is purely decorative.
The signature on the image is part of the original painting, ie. a printed signature, and does not come under the term 'signed print',
Signed prints
have been personally signed by the artist; usually just off the image bottom right.
Iberian Flounces II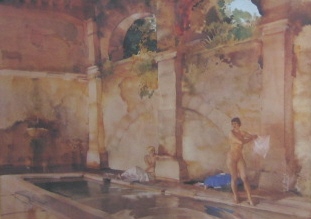 In classic Provence
This was published as a calendar print by Bemrose in Derby.
Although there was no grest value in the calendar prints, they became quite sought after through the years.
Unfortunately the inks were not lightfast and most of the prints that hacve been exposed to the light for a considerable amount of time hwill have badly faded.