Russell Flint, Signed, Limited, Edition, Prints, Originals, watercolours, paintings
Sir William Russell Flint
P.R.A., P.R.W.S., R.S.W., R.O.I., R.E.
---
---
"Although the Russell Flint painting I wanted was not in stock due to its rarity,
Mr Tatham spent many months tracking a first class example down and had it shipped from abroad.
It's authenticity and provenance were established and documented for me.
Using museum quality glass, it was framed sympathetic to the subject and appropriate to my decor and then sent by courier.
Throughout this process Mr Tatham has been very patient, helpful and knowledgeable.
His high standard of professional service is essential when making an investment of this kind.
Your sincerely" Anne Parmley RGN DN [lond] BA LLb [hons]
The largest collection of Sir William Russell Flint signed prints in the UK...
One of the most celebrated British watercolourists of the 20th century, Russell Flint is known for his remarkable technical skill and precision.
His watercolour paintings are regarded as some of the finest work ever produced.
From the early 1900s to his death in 1969 he was a prolific artist
A member of the Royal Academy for many years and president of the Royal Watercolour Society for twenty years.
Although he is known for his watercolours he also painted in oil and tempera, and produced etchings.
Knighted for his services to art in 1947, and a solo exhibition at the Royal Academy.
He painted in several countries including France, Italy, Switzerland and Scotland,
Russell Flint was captivated by the distinctive and unique character of the foreign lands.
However, his foremost fascination was the female form.
This manifested in a wide range of depictions; spanning from flamenco dancers
to Russell Flint's picturesque gypsies and languorous nudes.
Today his work is exhibited in numerous institutions around the world including
the British Museum, the Victoria and Albert Museum and the Art Institute of Chicago.
We are a leading authority of Sir William Russell Flint's work for over 30 years.
Russell Flint P.R.A., P.R.W.S., R.S.W., R.O.I., R.E.
originals, paintings, signed prints, for sale.
The history of Russell Flint. 1880-1969.
Sir Russell Flint, was born in Edinburgh 4th April, 1880.
His father Francis Wighton Flint, was a watercolourist and designer,
It helped Russell Flint considerably that his family was involved in artistic careers.
After studying at Daniel Stewarts School, he studied at the Royal Institution College of Artwork in Edinburgh, Scotland.
It was in this environment that he was able to develop his own unique style on paper.
For six years, he trained as a draughtsman in an Edinburgh printers, this undoubtedly helped to give him the discipline that went towards his sucess as one of the world's most outstanding watercolourists.
At the begining of the century Russell Flint took a job at the Illustrated London News where he would draw illustrations.
In this time before photographs, illustrations and drawings were not only important sources of information, but great accuracy was needed to produce realistic and true images for books and magazines.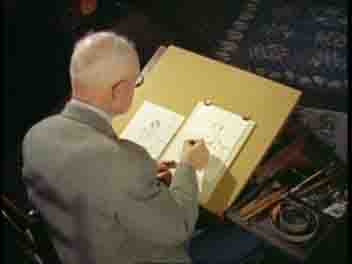 The Illustrated London News had a worldwide readership, (unlike the present day, the British Commonwealth stretched across the globe)
and the artist William Russell Flint became a familiar name throughout the empire which led to his international recognition as a watercolourist.
Great classics... "Thomas a Kempis","The Song of Solomon", Mallory's "Morte d'Arthur", Chaucer's "Canterbury Tales" and Homer's "Odyssey" were all illustrated by William Russell Flint.
War broke out in 1914, during which Flint joined the Royal Navy Air Service and by 1918 he was promoted to Admiralty Assistant Overseer;
This allowed him to travel back to Scotland where he studied at the art School.
After the war, Russell Flint visited Europe, in particular, France, where he painted and drew many landscapes of the tranquil countryside villages and their rural way of life.
The publications of his paintings illustrate much of his adventures in France.
Russell Flint became an Associate member of the Royal Academy in 1924 and nine years after, was elected a full member.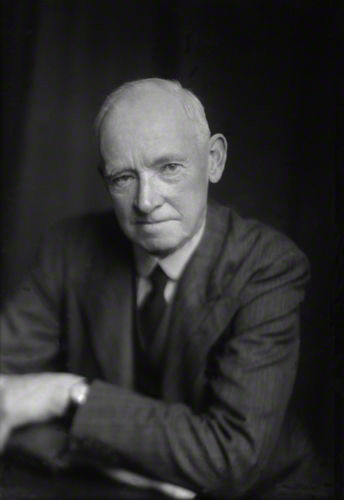 Russell Flint become the President of the Royal Society of Watercolour Painters in 1936.

Throughout the early 1940s, Russell and his wife lived on a turkey farm in Devon.
As a previous officer of the RAF, he was permitted to enter Devonport Dockyard,(this painting was published, and described as a masterpiece of perspective) and paint, at will.

William Russell Flint and his wife Sybil returned to their home at Peel Cottage, Campden Hill, London in nineteen forty five, and two years later Russell Flint was knighted.

Sir William Russell Flint greatly enjoyed his work, and painted until his death at the age of 89 years old.
His painting as a professional artist changed from one decade to the next, and his style matured into a very fine portrayal of textures that has never been surpassed.

Sir William Russell Flint's work has given and continues to give enormous pleasure to many admirers across the globe.
The signed prints and original paintings, have become very collectable, and his paintings have a great following and are known as some of the finest watercolour paintings in the world today.

Visit the studio in Nottinghamshire with over 500 limited edition prints and original paintings by Sir William Russell Flint


He was a much liked architectural, watercolour artist, who was most famous for his paintings of female nudes and Spanish dancers.
In the art world, Russell Flint was revered by his colleagues.
His father was an industrial artist and as a boy he joined a lithographic company where he spent six years learning about the printing industry and the many different techniques used.
Russell Flint was born in Edinburgh, Scotland in eighteen hundred and eighty, his gift for painting was soon impressing both his fellow artists and the general public.

During his student days at the Edinburgh Royal Institution Faculty of Artwork, and after working for six years at the lithographic printing company, he made the decision to live in London and work as an illustrator in the world of medicine, and then in 1903 he became an illustrator for the Illustrated London News which , due to worldwide distribution, publicised his work across the globe. In nineteen hundred and five Russell Flint married an admiral's daughter, Sibylle Sueter in 1905 and his work continued to flourish so that two years later he was able to become a freelance artist which gave him the opportunity to illustrate several classical special editions for example; Mallory's 'Morte D'Arthur', Chaucer's 'Canterbury Tales' and Homer's 'Odyssey'.

During WW1 Flint's job was the Admiralty assistant overseer of Airships . He went back to his place of birth, Scotland, and some years later painted a watercolour titled ' Hilda's Bonnet' on a small piece of material from HM Airship 24 which he had commanded.

After the Great War, Russell Flint's creative profession started to bloom. He travelled in France and Spain, the place he painted beautiful pictures showing the local landscapes and regional way of life.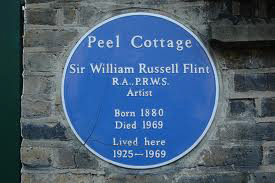 In 1924 he was asked to join the Royal Academy as an associate member, and nine years later he was given the status of full member in 1933.
Three years later he became President of the Royal Society of Painters in Watercolour. Leaving their home in Devon, where they had lived throughout the Great War,
Russell Flint and Syblle decided to return to Campden Hill, London, which proved a tremendous success for Russell Flint as the nation was begining to recover from the years of war, and begining to enjoy the arts once more.

His expertise with the watercolour medium and his talent in painting nudes, created an unique manner of painting which became world famous.

Sir william russell flint's prints soon became sought after throughout the world,
and his watercolour paintings were greatly admired, not only in the school of fine art and the royal academy of arts, but in many London museums.

William Russell Flint was honoured with a knighthood; Sir William Russell Flint in nineteen forty seven, and fifteen years later his work was given supreme prominence by a retrospective exhibition in the Diploma Gallery of the RA.
During this period, Charles Wheeler, who was the President of the Royal Academy, remarked that Russell Flint's art was an incredible feat and a 'baffling skill'.

In his later years, due to his artistic and financial success, Russell Flint was able to travel extensively across Europe, particularly in France
where he was a prolific painter, also enjoying some time painting in Switzerland, Spain, Italy, and Scotland.
If you wish to visit the beautiful countryside and villages in the south west of France where Flint spent much of his time painting,
a beautiful holiday house in Dordogne is to let throughout the year.

art uk provides good information on an enormous amount of proffessional artists.
The medici society has published many of Russell Flint's paintings.
Information on Russell Flint can be found in wikipedia.
His original work is on display in the national galleries, the museum of art in London.
Although much of his paintings are in private art collections, many of his watercolours can be seen at the institute of art.
Russell Flint provided the illustrations for the savoy operas and king solomons mines.
He studied at Daniel Stewarts School, and then joined the Royal Institution College of Artwork in Edinburgh.

We have specialized in the paintings and prints by Sir William Russell Flint for over thirty years, and have on display over
500 prints, signed and unsigned limited edition prints; Also original Russell Flint watercolour paintings and red chalk drawings, for sale.
The signed prints, became very sought after, and it was not unusual for the entire edition to be sold out at the publication date.

There is no 'second' edition, these are the original signed, prints that have over the years become highly collectable and
sought after works of art, some of which are over seventy years old.
After his death in 1969 his work was so much in demand, that prints continued to be published as limited editions and were as sought after as some of the earlier signed prints.
There were atleast 100 limited edition prints published between 1969 to 1983 and a Catalogue Raisonne Volume II was produced to list them.

Recognized worldwide as a fine watercolour master, Sir William's work enjoys the prominence amongst a collection of the finest and most experienced painters of our time.