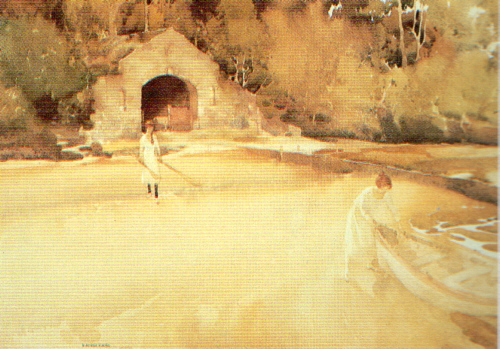 'The Boathouse'
Date of Publication
Signed:- Russell Flint
Image size 34 x 24.5 cm 13.5" x 9.75"
Overall size with frame 60 x 52cm. 24" x 20.75"
We can see two girls on the bank of the river, one appears to be pushing a small rowing boat into the water, whilst the other girl follows behind with a pair of oars.
We can assume they are going make the most of a warm sunny day and have some fun rowing along the river.
The boat house in the distance is made of stone, and looks to be a substantial building, made in stone, probably in the grounds of a large house or chateau.
It does not say where the location for this painting has been found, but one might assume on the banks of the River Loire?
This painting was published as a calendar print by Bemrose in Derby.
It has no particular value, as the print was not personally signed, numbered, or made as a limited edition.
However, over the years, due to the inks not being light fast; most of the calendar prints have faded badly,
which does make any in mint condition, quite a sought after item by a Russell Flint collector.
---