A Scrap of Newspaper
Sir William Russell Flint
P.R.A., P.R.W.S., R.S.W., R.O.I., R.E.
---
---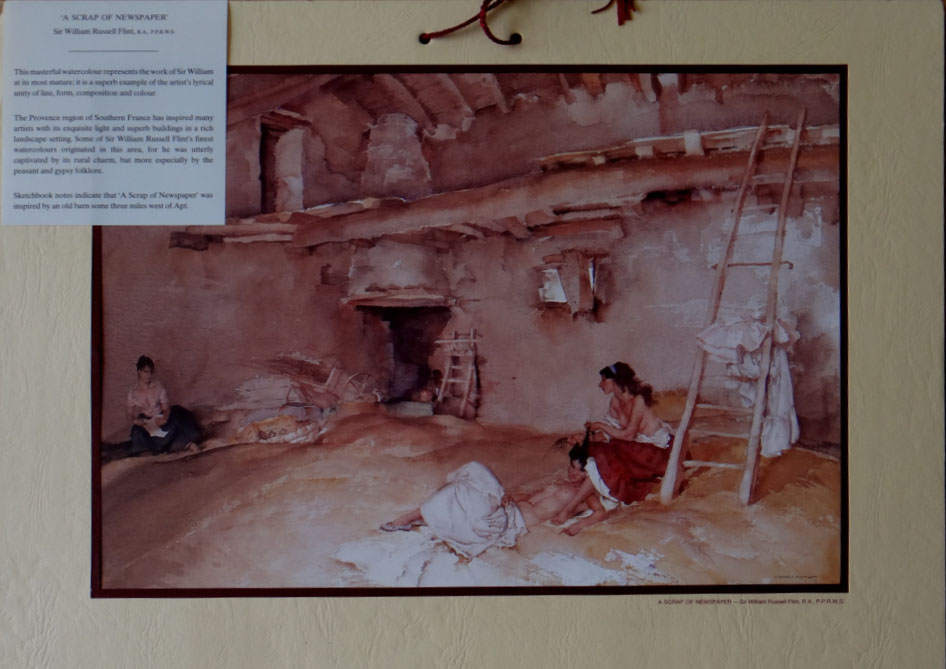 A scrap of newspaper
This masterful watercolour represents the work of Sir William Russell Flint at its most mature;
it is a superb example of the artist's lyrical unity of line, form, composition and colour.
The Provence region of Southern France has inspired many artists
with its exquisite light and superb buildings in a rich landscape setting.
Some of Russell Flint's finest paintings originated in the area, for he was utterly captivated by its rural charm,
but more especially by the peasant and gypsy folklore.
Sketchbook notes indicate that 'A Scrap of Newspaper' was inspired by an old barn some 3 miles west of Apt.
This particular painting was published as a decorative calendar print, purely for the enjoyment of the work.
original-versailles
original-castanets
original, Palazzo
Antoinette and the Bathers
signed-limited-edition-prints
Boat house
original-bathers
garden tap
silver mirror
The beach hut
Alexandra and Josette
Mill at st Martin d'Ardeche
originals, sold, painting
lucilla
Reproof Almeria
provencal sisters
article1
site map, html
carmelita
original-ceciliasnewdress
Cecilia in Piccadilly
original-woodland
Susanna