The Trio
Sir William Russell Flint
P.R.A., P.R.W.S., R.S.W., R.O.I., R.E.
---
---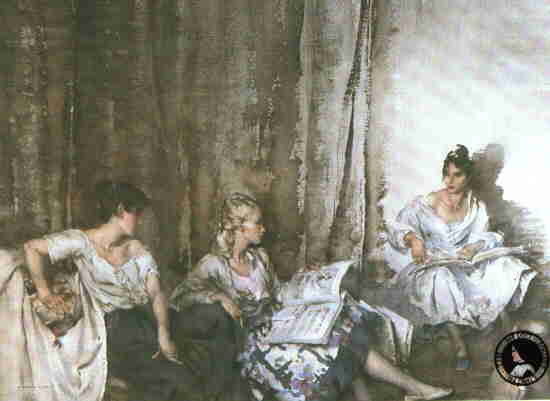 'The Trio'
Date of Publication August, 1964.
Signed,Limited Edition print of 856.
Image size 17" x 23"

---
The classical magical triad; Russell Flint once claimed to prefer the compositional balance of odd numbers,
particularly threesomes, not that he was noticably averse to painting single figures or pairs for that matter.
Here is his favourite blonde, Ray Fuller is shown holding a large book centre which is balanced nicely on either side by his dark-haired beauty Cecilia.
Recognized worldwide as a master of watercolour painting, Sir William Russell Flint's work enjoys the prominence of some of the finest and most experienced paintings of our time.
You may also be interested to view two of our websites featuring the work of highly regarded wildlife artist, David Shepherd read more
and the signed prints and drawings of Britain's most sought-after artworks by L.S. Lowry read more here. Sir William Russell Flint paintings and signed prints for sale.
Should you wish to explore the area in France that Sir William spent so much of his time; This holiday house in the Dordogne can provide
a beautiful experience for those who enjoy the countryside and wish to visit the many towns and villages of great character.
town flag sospel
lucillaposing
Repainting Oar Blades
in pursuit, book, deluxe
original, nude, drawing
originalpencilnude1
raquel, painting
red chalk, drawing, new gloves
crowded beach, painting
nicollet, painting
the twisted chain, Cecilia, painting
studies-of-cecilia
russell flint drawings
Josefina
original-highshelf
The Mill France
conversationpiece
Rival posters
two sisters and a jetty, painting
four sisters, Chazelet
original, lydia, red chalk
prices
guild code list
Dianas secret vault
Courtyard caprice, painting
donkey, painting
silver and gold
portovenere, Italy
teresitas flowery robe
morning gossip, france, painting
painting, Languedoc, France
original gitanes
Moira Shearer
casildas white petticoat
sunlit bastion
Paris, watercolour
catalogue raisonne volume I
cecilia in june
four studies
question of attribution
basket of apples, Brantome, painting
Breakfast in Perigord, France
awkward encounter
sleeping favourite, original
reclining nude II, limited print
unexplored city
unknown, decorative, print, france
river Gard, Languedoc