The twisted chain
Sir William Russell Flint
P.R.A., P.R.W.S., R.S.W., R.O.I., R.E.
---
---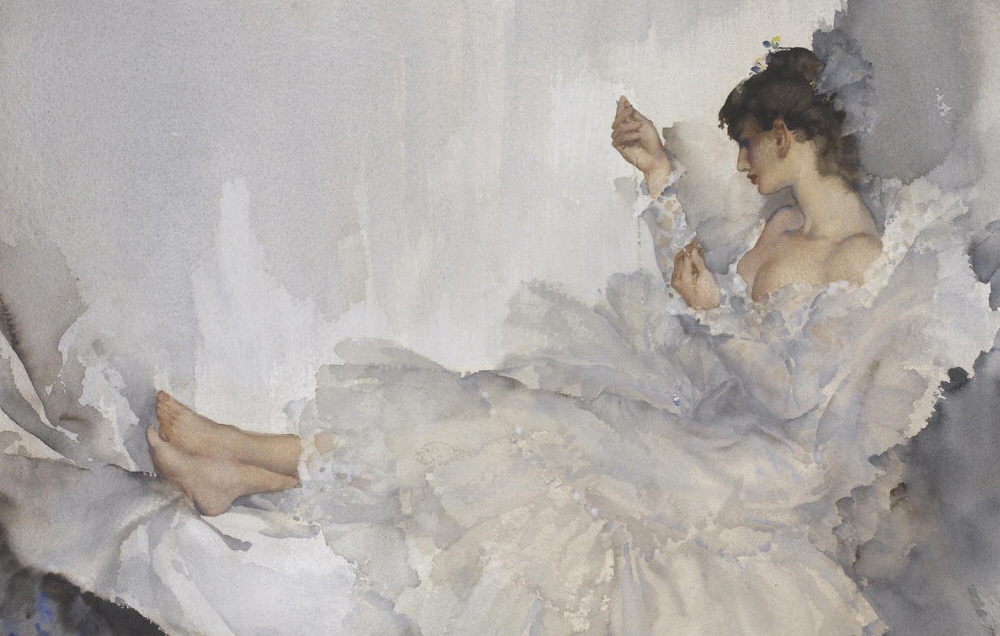 'The Twisted Chain, Cecilia'
Original watercolour
Image size 36.5 x 54.2 cm. (14 3/8 x 21 3/8 in.)
PROVENANCE: With Frost and Reed, London, where purchased by the family of the present owner Thence by descent Private Collection, Buenos Aires, Argentina
Sold for £74,400
June 2010
SIR WILLIAM RUSSELL FLINT P.R.A., P.R.W.S., R.S.W., R.O.I., R.E
A beautiful study of Cecilia Green looking at a piece of jewellry, a classic pose by Russell Flint at his finest.
The delicacy and transluscence of her dress is almost an impossible task to achieve with watercolours, yet Flint is able to produce such an effect with great ease.
It is interesting to see, that in 2010, this painting was purchased by a gentleman in Buenos Aires, Arentina for £74,000
Which goes to illustrate Flint's worldwide appeal.
Chazelet
Nun's class
Campo san Trovaso
Perigord