Courtyard Caprice
Sir William Russell Flint
P.R.A., P.R.W.S., R.S.W., R.O.I., R.E.
---
---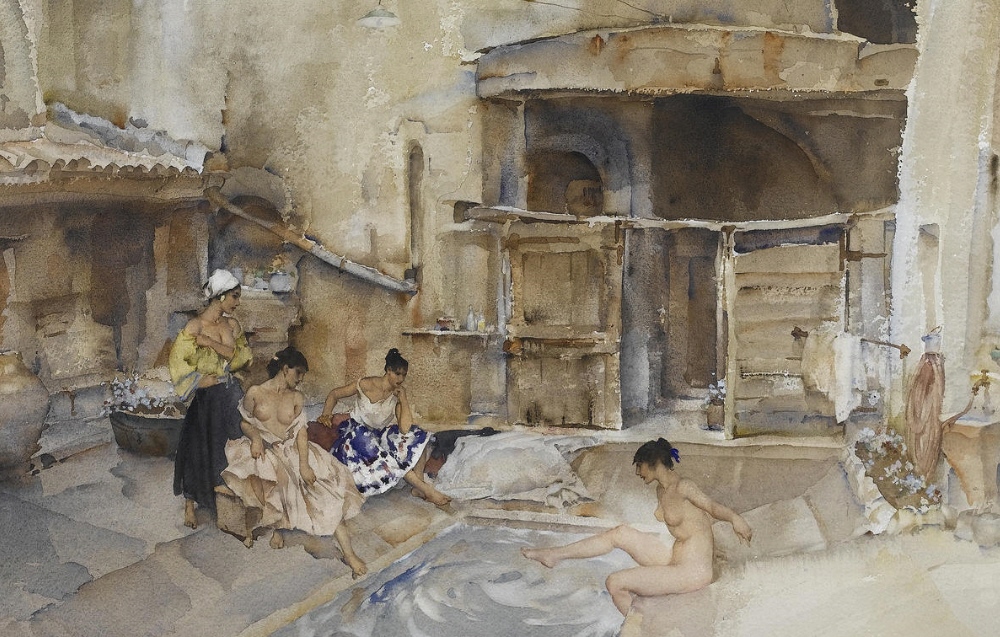 Courtyard caprice
Original watercolour
Image size 49 x 66.5 cm. (19 1/4 x 26 1/8 in.)
PROVENANCE: With The Everard Read Gallery, Johannesburg, South Africa, where acquired by the family of the present owner; ... a Private South African Collection
Sold for £51,600
November, 2007
SIR WILLIAM RUSSELL FLINT P.R.A., P.R.W.S., R.S.W., R.O.I., R.E
A lively, yet intricate painting, very much in Russell Flint's style.
A group of girls playing by what appears to be a pool or bath, but is probably la Lavoir,
where everyone congregates to wash their clothes and exchage the current gossip,
Obviously in this scene there is some sort of 'caprice' being played out by one of the girls.
The figures in the painting are Cecilia Green, which dates the work somewhere between 1953 and 1966.
madamedubarry
madamoisellesophie
Maggie posing
modelforelegance
morningdinard
angevininterior
the blue tent, Parame
bourdeillessurdronne
bronze and silver
portraitofdenise
charlotte
dance of a thousand flounces
dancerlotussoshan
dragon
St. Jean de Cole, well
portraitofdenise
holiday after ramadan
mathilda's kitchen
model and critic, painting
nude-redchalk
Girl in a Spanish dress mantilla
Osier
pink wash, france
Rosalinda
phyllissalone
portraitofdenise
salamanders, st. Tropez
sandrine
portraitofdenise
sirens
portraitofdenise
La porte Chapelle Compiegne
springtimeintheardeche
track across the dunes
portraitofdenise
under the sundial, Cobonne
vanity in the old guard room
washerwomenbythedrome
picnicatlaroche
picnicatturnawarepoint