Diana's Secret Vault
Sir William Russell Flint
P.R.A., P.R.W.S., R.S.W., R.O.I., R.E.
---
---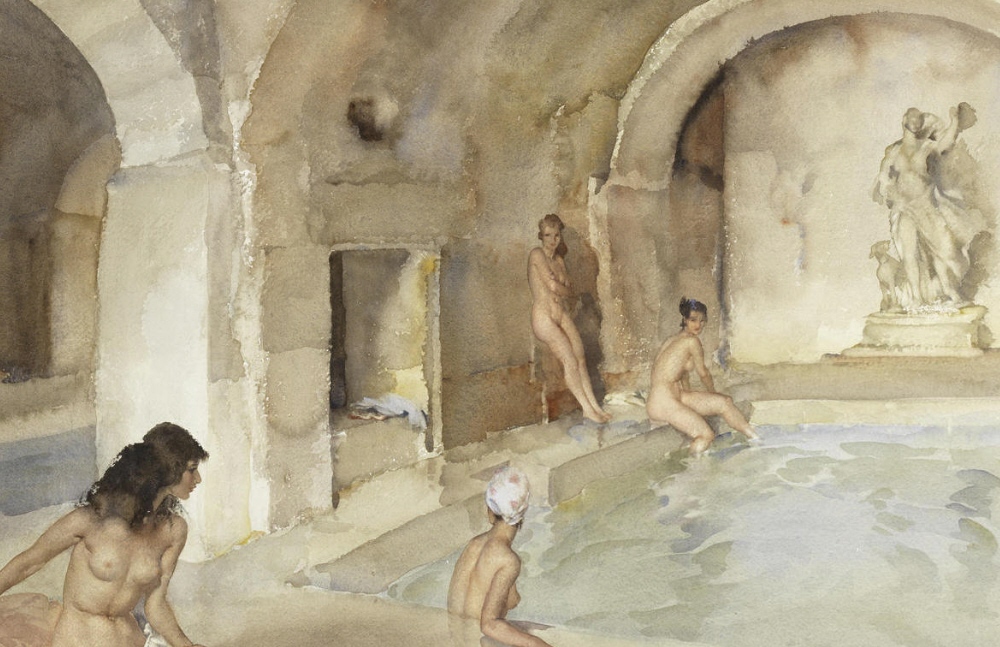 'Diana's Secret Vault, Languedoc '
Original watercolour
Image size 49 x 66.5 cm. (19 1/4 x 26 1/4 in.)
PROVENANCE: With The Everard Read Gallery, Johannesburg, South Africa, where acquired by the family of the present owner;
... a Private South African Collection
Sold for £67,250
May 2012
SIR WILLIAM RUSSELL FLINT P.R.A., P.R.W.S., R.S.W., R.O.I., R.E
A wonderful example of Sir William Russell Flint's use of many subtle colours to produce a feeling of stone work and water.
A simple brush stroke of watercolour that can give the impression of stone, water, flesh.
Similar in many respects to the published signed limited edition 'Lavoir La Bastde'
It is interesting to note the price, date and location, which illustrates the worldwide demand for Russell Flint's work and the recognition of his professionalism.
Privacy statement
Acquiescent Angels
ancientaquaduct
ancientperigord
artemis and chione
Basket Makers
basketofapples
bath of Susannah
blue ribbon
bytheardeche
calendar-print
cecilia5
more than shadows
corisande
doscabreras
The festival dress cordes
foursisterschazelet