Original nude drawing.
Sir William Russell Flint
P.R.A., P.R.W.S., R.S.W., R.O.I., R.E.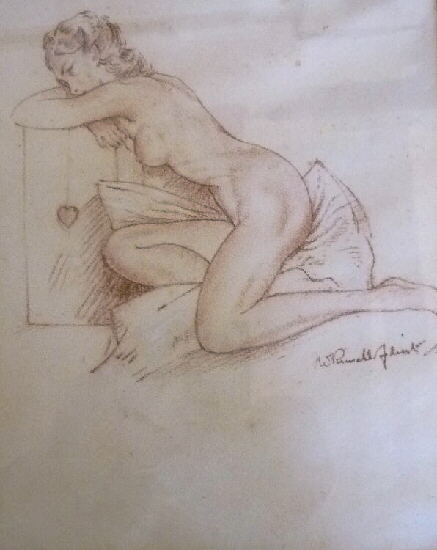 Reclining Nude
signed 'W. RUSSELL FLINT' (lower right)
A classic crayon drawing of a reclining nude by Sir William Russell Flint
Image size 10.5 x 8 inches
Sold
This typical red chalk drawing by Russell Flint reflects the care and sensitivity he takes over the minutest detail.
The paper that he often uses, is the finest hand made antique paper.
Sometimes he would purchase antique books that had not been printed and use this paper for his red chalk and pencil drawings.
This particular drawing will ghave undoubtedly been drawn in Russell Flint's Campden studio in Peel Street, London.
There are similar drawings illustrated in some of his many book publications.,br /> I suspect this is an early work as it does not particularly resemble Cecilia Green.
Should you wish to visit our studio with a view to making a purchase, please call or email for an appointment.