Nicollet
Original watercolour
Sir William Russell Flint
P.R.A., P.R.W.S., R.S.W., R.O.I., R.E.
---
---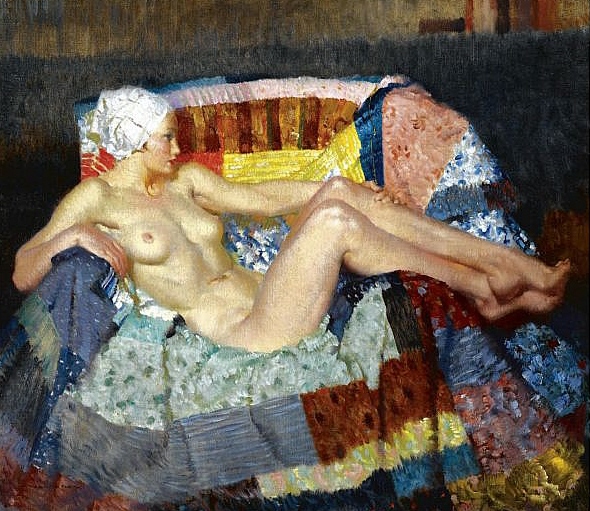 'Nicollet'
signed 'W Russell Flint';
Image size:- 26.5 x 30.5 in.
Oil painting
sold 26/08/2008
£ 301,250
signed l.l.: W. RUSSELL FLINT; signed and titled on the overlap: NICOLLET W. Russell Flint oil on canvas
In the introduction of Ralph Lewis's biography of Sir William Russell Flint, Adrian Bury describes how "in the infinite variety of temperament,
vision, technique, achievement, despair and triumph recorded in the long history of art, Sir William Russell Flint takes a unique place.
At its best his work is perfect and without criticism." Bury presents Flint as "the greatest master technically of the elusive water-colour method of art"
but does not fully discuss his ability to paint in oil. Nicollet is one of the finest oil paintings Flint was to produce and naturally he used his favourite subject,
the nude. William Russell Flint's nubile young ladies have become the epitome of sensual glamour from the first few decades of the twentieth century.
Like Hollywood screen-goddesses or fashion models, they often strut, pose and recline in various attitudes of sensual abandon.
Flint consciously includes items of modern dress such as a pair of silk slippers, loosely draped robes or as in the case of Nicollet,
a silk head scarf which highlights her nudity as she provocatively reclines upon a vibrantly colourful. The composition is perfectly balanced,
Nicollet dominating the space with supreme confidence and poise.
The viewer's eye is at once drawn across each contour of her figure, finding little distraction from the explosive colour scheme of the surrounding areas of the canvas.
Two outstanding watercolours to have been offered on the market recently, Belle Poseuse (Sold at Sotheby's, Gleneagles, 29 August 2007, Lot 179) and Sandy Bastion (Sold at Sotheby's, Edinburgh, 1 May 2008, Lot 105)
provide a fitting comparison to Nicollet and in the translation of the subject from watercolour to oil, Flint has lost none of the control and finesse which is so keenly associated with his finest work.
As Adrian Bury further identifies, "the artist combined thought, feeling and knowledge of the subject with confidence and love, and he communicated that love to the spectator in unmistakable terms.
Such is the reason for his universal success with artists, connoisseurs and the public in general."
Nicollet is one of the most outstanding examples of William Russell Flint's work in oil that has been seen at auction.
Provenance: W. Russell Button, Chicago;
Private Collection
The history of Russell Flint. 1880-1969.
Sir Russell Flint, began life in Edinburgh on the fourth of April Eighteen eighty.
His father Francis Wighton Flint, was a watercolourist and designer,
It helped Russell Flint considerably that his family was involved in artistic careers. After studying at Daniel Stewarts School,
he studied at the Royal Institution College of Artwork in Edinburgh, Scotland. It was in this environment that he was able to develop his
own unique style on paper
Should you wish to explore the area in France that Sir William spent so much of his time this holiday house in the Dordogne see here can provide
a beautiful experience for those who enjoy the countryside and the many towns and villages of great character.
You may be interested to view two of our websites featuring the work of highly regarded wildlife artist, David Shepherd
read
more
and the signed prints and drawings of Britain's most sought after artworks by L.S. Lowry
read
more.