The Circular Pool
Frances Murray Russell Flint
---
---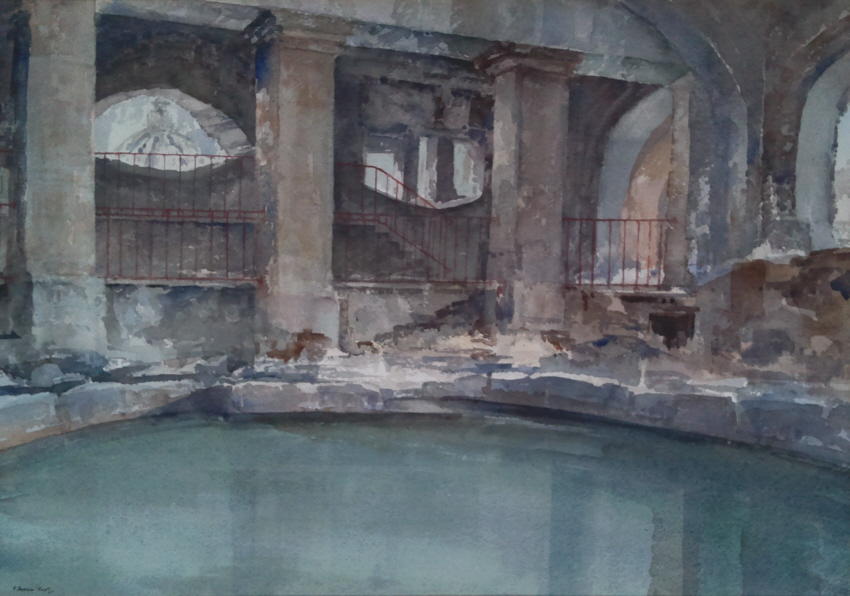 The Circular Pool, Bath
signed 'Francis Murray Russell Flint' July 1974
Image size 21" x 14.5"
Signed and titled on the reverse
Complete with wash/line french bound mount
I am fairly sure that this is the circular pool in Bath, Somerset.
Bath is the largest city in the county of Somerset, England, known for and named after its Roman-built baths.
In 2011, the population was 88,859. Bath is in the valley of the River Avon, 97 miles west of London and 11 miles southeast of Bristol.
The city became a World Heritage site in 1987.
People would travel from all over the country, and beyond, to enjoy the natural spring baths that this city had to offer.
The Romans enjoyed the refreshing health giving benefits that the city has now become famous for.
vanity in the old guard room
washerwomenbythedrome
picnicatlaroche
picnicatturnawarepoint
poolofechoes
ray as du barry
Reclining nude III
redterrace
Renee
ripples and chatter
rococo aphrodite
roxanne
A scrap of newspaper
sensitiveplants
Shrimpgirl
annemariebytheloire
argument on the ballet
chattels
gossipaftermarketperigord
signedlimitededitionprints
Snow
study in white
subjectoftwo
summertime uzes
swinginthechateau
symposiunatlucenay
terms and conditions
the spring board
unexpected Spaniard
variationsII
Vignette
books, vol II
wishingwell
sitemap