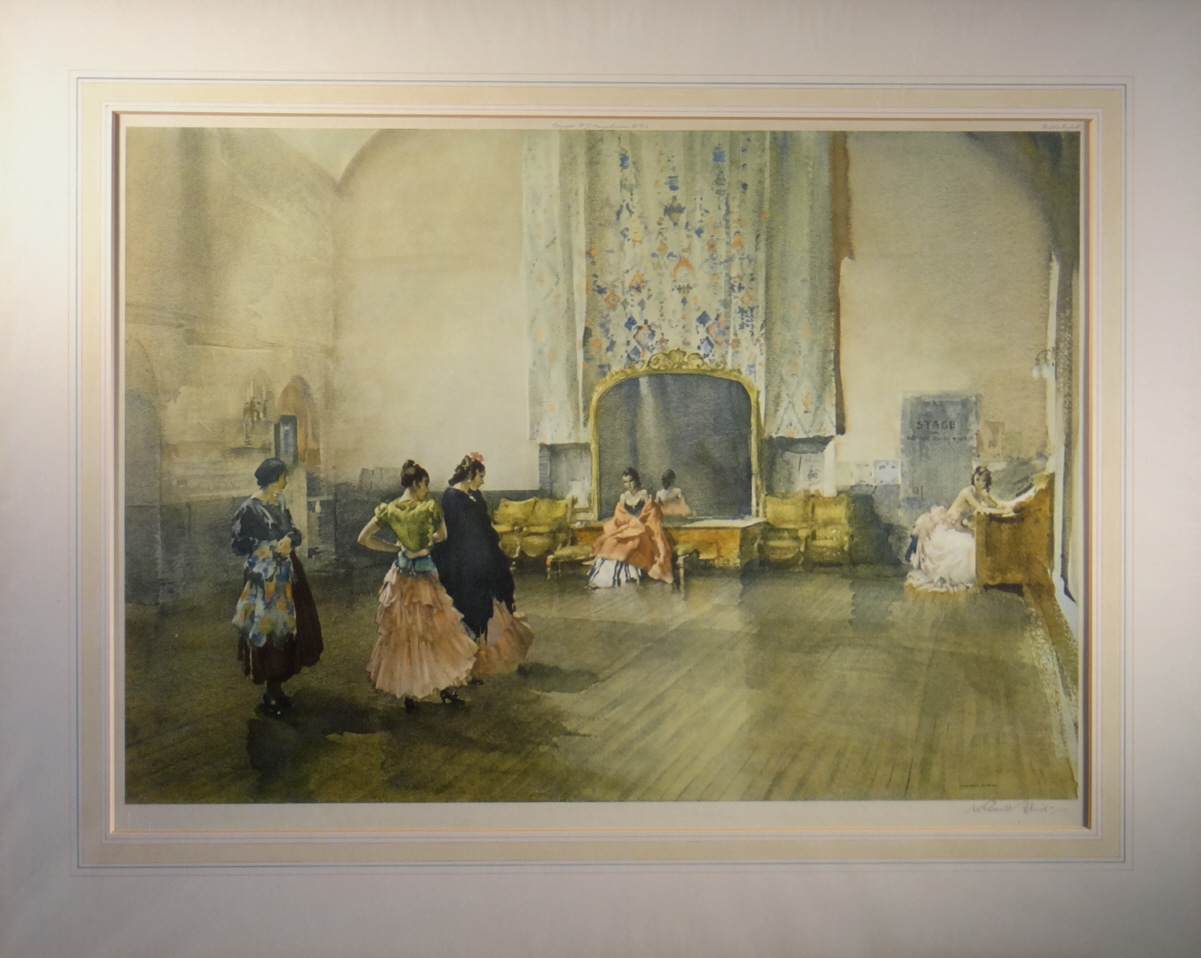 Argument on the ballet
Limited edition of 662
Published; July, 1951
Image Size 15.5" x 22".

---
"Madame Rambert's rehearsal room in which I was courteously allowed to paint used to provide background for my ballet pictures.
I have forgotten the particular subject under discussion but it certainly pertained to the Ballet (with a capital B). In that dedicated chamber
no other theme would be permitted." Dame Marie Rambert, justifiably described as, the mother of British ballet" was a contemporary and near neighbour of Russell Flint,
being born in 1888, and living in Campden Hill Gardens. Her Ballet School and Theatre - the Mercury - was a converted church hall
(and neighbouring houses) in Notting Hill Gate. Her rehearsal room featured here was for "Mirror of the Ballet".
---
During his student days at the Edinburgh Royal Institution Faculty of Artwork, and after working for six years at the lithographic printing company, he made the decision to live in London and work as an illustrator in the world of medicine, and then in 1903 he became an illustrator for the Illustrated London News which , due to worldwide distribution, publicised his work across the globe. In nineteen hundred and five he married an admiral's daughter, Sibylle Sueter in 1905 and his work continued to flourish so that two years later he was able to become a freelance artist which gave him the opportunity to illustrate several classical special editions for example; Mallory's 'Morte D'Arthur', Chaucer's 'Canterbury Tales' and Homer's 'Odyssey'.
During WW1 his job was the Admiralty assistant overseer of Airships . He returned to his birthplace of Scotland, and some years later painted a watercolour titled ' Hilda's Bonnet' on a small piece of material from HM Airship 24 which he had been in charge.
After the Geat War, Russell Flint's creative profession started to bloom. He travelled in France and Spain, the place he painted beautiful pictures showing the local landscapes and regional way of life.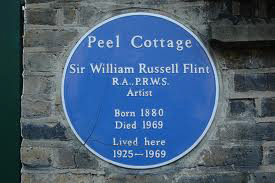 In 1924 he was asked to join the Royal Academy as an associate member, and nine years laterhe was given the status of full member in 1933. Three years later he became President of the Royal Society of Painters in Watercolour. Leaving their home in Devon, where they had lived throughout the Great War, Russell Flint and Syblle decided to return to Campden Hill, London, which proved a tremendous success for Russell Flint as the nation was begining to recover from the years of war, and begining to enjoy the arts once more.
His expertise with the watercolour medium and his talent in painting nudes, created an unique manner of painting which became world famous.
William Russell Flint was made Sir William Russell Flint in nineteen forty seven, and fifteen years later his work was given supreme prominence by a retrospective exhibition in the Diploma Gallery of the Royal Academy. During this period, Charles Wheeler, who was the President of the Royal Academy, remarked that Russell Flint's art was an incredible feat and a 'baffling skill'.
In his later years, due to his artistic and financial success, Russell Flint was able to travel extensively across Europe, particularly in France
where he was a prolific painter, also enjoying some time painting in Switzerland, Spain, Italy, and Scotland.
Cornwater Fine Art has specialized in the paintings and prints of Sir William Russell Flint for over thirty years, and have on display over
500 edition prints, signed and unsigned; Also original watercolour paintings and red chalk drawings, for sale.
The limited edition prints, particularly the signed, limited edition prints (ie. pre 1969) were very sought after, and the entire edition could
be sold out within several hours of release.
There is no 'second' edition of these prints, these are the original signed, limited editions that have over the years become highly collectable and
sought after works of art, some of which are over seventy years old.
For over 30 years the paintings and prints by Sir William Russell Flint have been our speciality
500 limited edition prints, personally signed and unsigned editions after his death; A wonderful collection original watercolour paintings and drawings, are also for sale.
In the heart of the French countryside, near the beautiful towns of Brantome and St. Jean du Cole lies La Chabroulie, Holiday house to let in Dordogne France.
Limited edition prints, in particular the signed, limited edition prints (ie. pre 1969) were in enormous demand at the date of publication,
the entire edition would often be sold out within several hours of the prints being released.
Unlike books, a 'second' edition of these prints is never produced, and apart from the original painting these prints are the only original hand signed, limited editions
A master of watercolour painting, Sir William Russell Flint's work enjoys the recognition amongst the finest and most experienced art of our time.
Should you wish to explore the area in France that Sir William spent so much of his time; This holiday house in the Dordogne can provide
a beautiful experience for those who enjoy the countryside and wish to visit the many towns and villages of great character. here
You may be interested to view two of our websites featuring the work of highly regarded wildlife artist, David Shepherd>
and the signed prints and drawings of Britain's most sought after artworks by L.S. Lowry
view
here.
d@art.info

01623 799 309