---
Porchester Castle
Frances Murray Russell Flint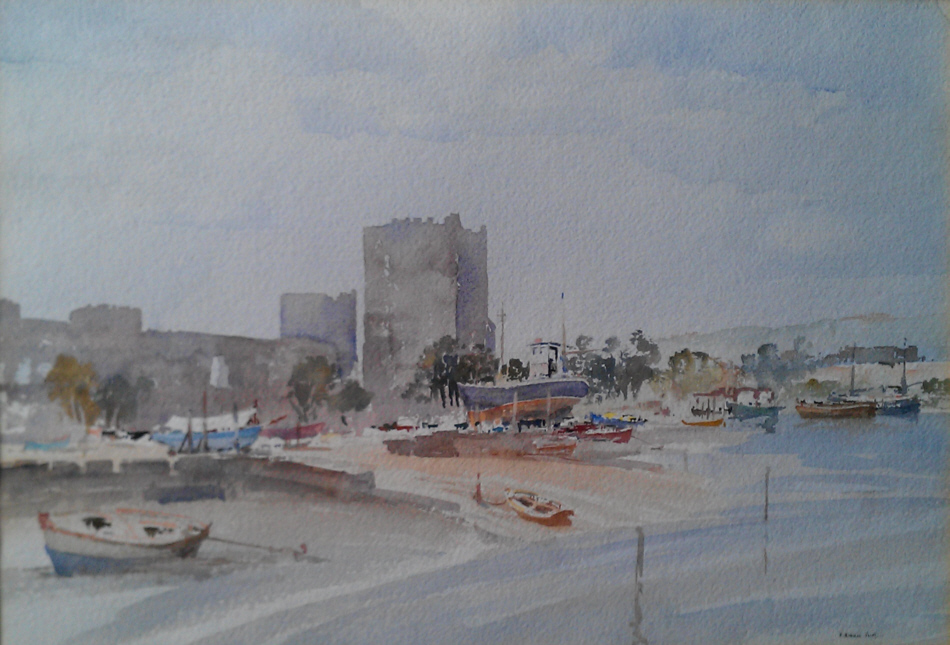 'Porchester Castle'
Original Watercolour
Image Size 21.25" x 14.5" (54 x 37cm)
Portchester Castle is a medieval fortress that was developed within the walls of the Roman fort at Portchester to the east of Fareham in Hampshire.
The keep was probably built in the late 11th century as a baronial castle and Portchester was taken under royal control in 1154.
The Romans built a huge fort here, which remains the best preserved Roman fort north of the Alps.
After the Norman Conquest a castle was built in one corner of the fort, which grew into an impressive royal residence.
From 1665 Portchester was frequently used to house foreign prisoners of war, most notably during the wars with France between 1793 and 1815.
You may be interested to view two of our websites featuring the work of highly regarded wildlife artist, David Shepherd read
more
and the signed prints and drawings of Britain's most sought after artworks by L.S. Lowry
read
more Sir William Russell Flint paintings and signed
prints
for sale.
St. Jean de Cole, well
portraitofdenise
holiday after ramadan
mathilda's kitchen
model and critic, painting
nude-redchalk
Girl in a Spanish dress mantilla
Osier
pink wash, france
Rosalinda
phyllissalone
portraitofdenise
salamanders, st. Tropez
sandrine
portraitofdenise
sirens
portraitofdenise
La porte Chapelle Compiegne
springtimeintheardeche
track across the dunes
portraitofdenise
under the sundial, Cobonne
vanity in the old guard room
washerwomenbythedrome
picnicatlaroche
picnicatturnawarepoint