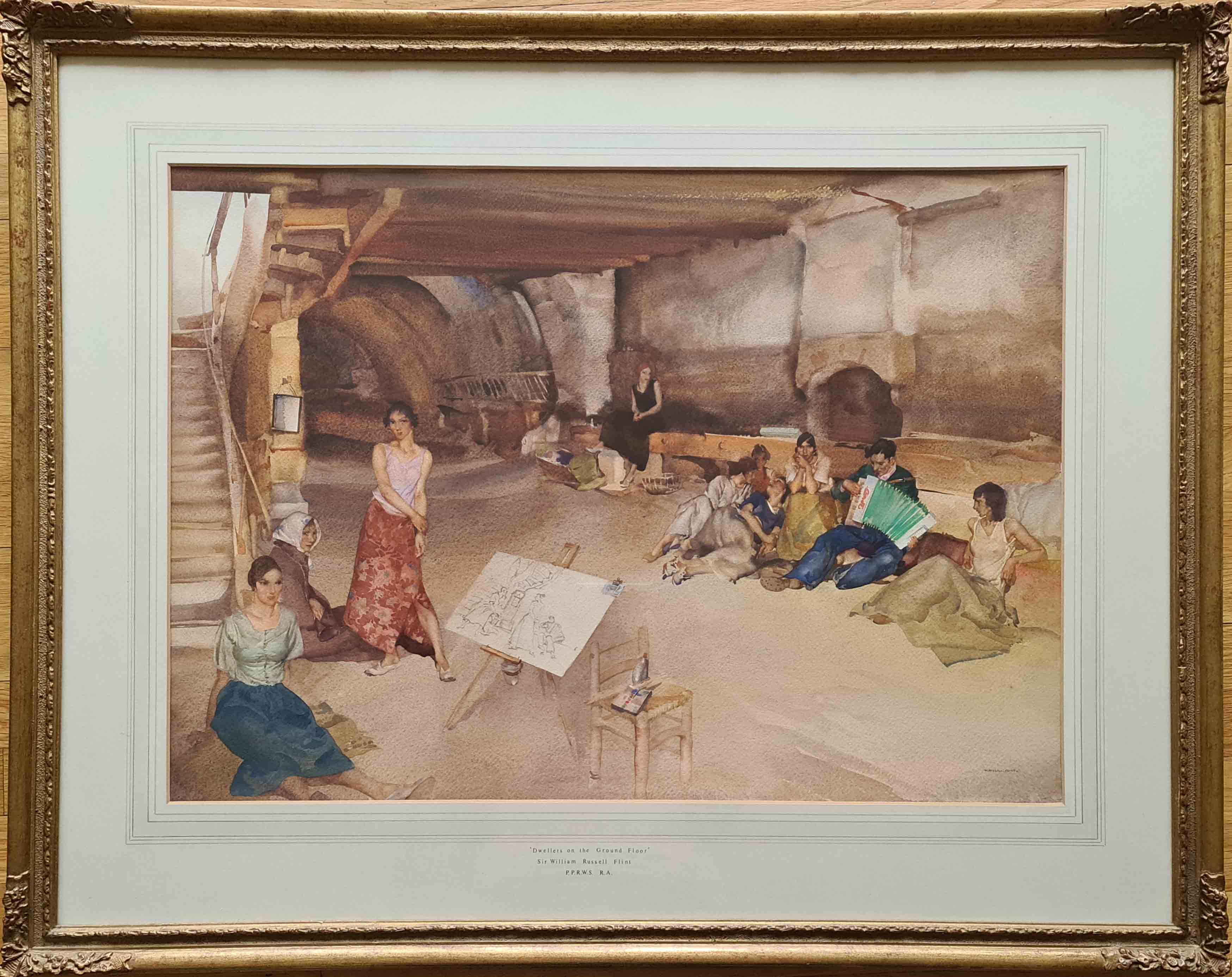 SIR WILLIAM RUSSELL FLINT RA PRSW (SCOTTISH 1880 - 1969),
DWELLERS ON THE GROUND FLOOR
Watercolour on paper, signed, titled label verso and in the mount.
Image size 54cm x 76cm,(21.25" x 30")
Overall size with frame:- 81cm x 102cm (32" x 40")
Framed and under glass.
Label verso: Ian MacNicol, Glasgow.
Provenance: From a Private Scottish Collection.
Aiguèze is a commune in the Gard department in the Occitanie region of Southern France.
In 2016, it had a population of 217.
Since 2005, Aiguèze has been a member of 'Les Plus Beaux Villages de France', the first such location in the department of the Gard.
Situated on the Ardèche river, Aiguèze is approximately 30 kilometres south from Vallon-Pont-d'Arc, and some sixty kilometres south from the town of Aubenas.
In the same area was painted this original Springtime in the Ardéche
Russell Flint travelled extensively in this area, and produced many fine paintings in the south-east of France.
Wildlife artist,
David Shepherd
Signed prints by
L.S. Lowry
.
d@art.info

01623 799 309
girl from Orio
gossipers at le castellet
gossip st. jeannet
Gypsies outside a church
iberianflounces
in pursuit, books
insunnyperigord
models in an italian courtyard
lamariemanosque
act II scene I
amanda
ancient doorway, Cordes
aquaduct
madamedubarry
madamoisellesophie
Maggie posing
modelforelegance
morningdinard
angevininterior
the blue tent, Parame
bourdeillessurdronne
bronze and silver
portraitofdenise
charlotte
dance of a thousand flounces
dancerlotussoshan
dragon