Dispute at the Well
Sir William Russell Flint
---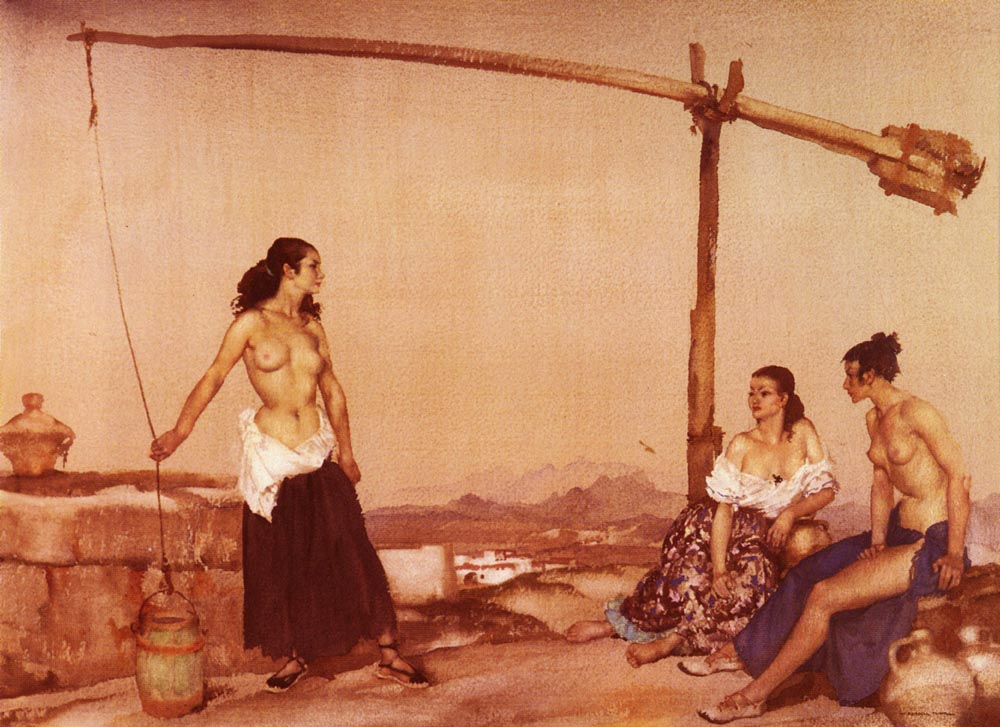 Dispute at the well
Watercolour
Private collection
21" x 28"
I think the title "Disput at the well", says it all..
It appears an old painting, yet it must be after 1953 as the figure on the right is definately Cecilia.
As far as I am aware, this original has not been published.
It appears to be a studio composition, with the backdrop of Spanish mountain scenery in the distance.
Many of Sir William Russell Flint's paintings can be seen with a similar mountainous range in the distance.
The history of Russell Flint. 1880-1969.
You may be interested to view two of our websites featuring the work of highly regarded wildlife artist, David Shepherd
read
more
and the signed prints and drawings of Britain's most sought after artworks by L.S. Lowry
read
more.
St. Jean de Cole, well
portraitofdenise
holiday after ramadan
mathilda's kitchen
model and critic, painting
nude-redchalk
Girl in a Spanish dress mantilla
Osier
pink wash, france
Rosalinda
phyllissalone
portraitofdenise
salamanders, st. Tropez
sandrine
portraitofdenise
sirens
portraitofdenise
La porte Chapelle Compiegne
springtimeintheardeche
track across the dunes
portraitofdenise
under the sundial, Cobonne
vanity in the old guard room
washerwomenbythedrome