The Dancer Lotus Soshan
Original watercolour
Sir William Russell Flint
P.R.A., P.R.W.S., R.S.W., R.O.I., R.E.
---
---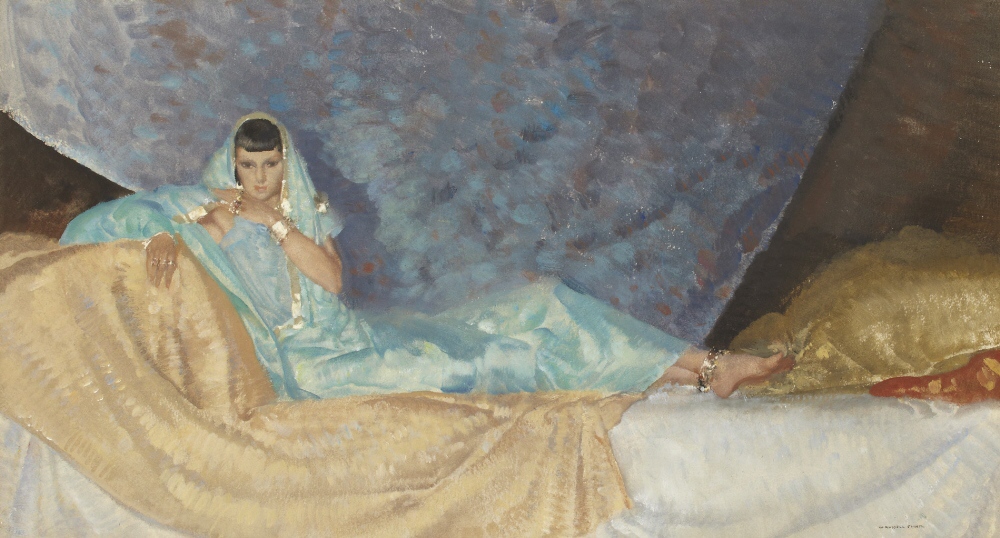 THE DANCER LOTUS SOSHAN
SIR WILLIAM RUSSELL FLINT P.R.A., P.R.W.S., R.S.W., R.O.I., R.E. (SCOTTISH 1880-1969)
Signed, signed and inscribed with title on the backboard, tempera
21.5cm x 60.5cm (8.5in x 24in)
Provenance:Frost and Reed, Bristol, Registered No.D12465
Original watercolour.
I am not sure who the model was in this painting, the style looks rather early, and does not particularly resemble Cecilia Green.
An interesting painting by Russell Flint, who painted few middle eastern and African scenes.
The backdrop of materials is magnificent, as is the painting of the sparkling gold jewellry
I have recently been informed the dancer was well known in the 1930s and of Egyptian descent.
In 2014the painting sold for a little shyof twenty thousand pounds.
wildlife artist, David Shepherd read
more
L.S. Lowry
read
more.
Privacy statement
Acquiescent Angels
ancientaquaduct
ancientperigord
artemis and chione
Basket Makers
basketofapples
bath of Susannah
blue ribbon
bytheardeche
calendar-print
cecilia5
more than shadows
corisande
doscabreras
The festival dress cordes
bourdeillessurdronne