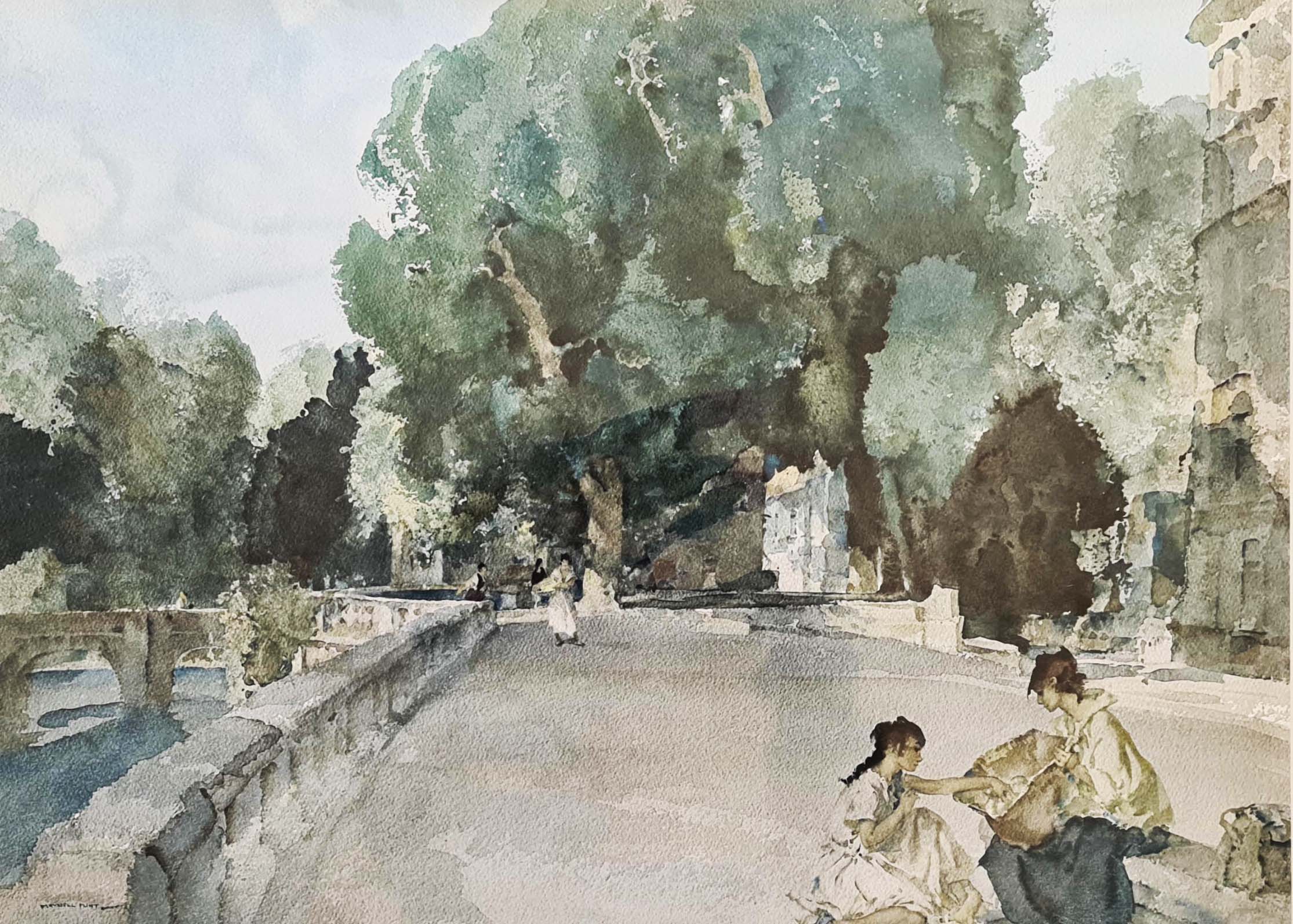 'The Basket of Apples'
Limited edition print of 650
Published 1975
Image Size 17.25" X 24"
On the terrace of the abbey of Charlemagne at Brantome on the river Dronne in the Perigord region of France, which is today a popular tourist spot.
It is an attractive little town with a very picturesque weir and mill which now serves more profitably, no doubt as a well appointed hotel.
Literary commentators have sung the praises of Brantome, but Sir William obviously had an unfortunate experience there because he refers to it in his diaries
as 'the worst town in France'.
It couldn't have been so awful though, as Sir William appears to have spent quite a while in the area.
There are several published limited editions in and around Brantome
'Under the Terrace, Brantome'
Limited edition of 653
Published May, 1995
'My father painting at Brantome, France'
by Francis Murray Russell Flint
Size 30" X 21".
Original Watercolour and published as a signed limited edition
The river Dronne at Brantome
signed 'Francis Murray Russell Flint'
Image size 15" x 21"
There is no 'second' edition of these prints, these are the original signed, limited editions that have over the years become highly collectable and
sought after works of art, some of which are over seventy years old.
Should you wish to explore the area in France that Sir William spent so much of his time; This holiday house in the Dordogne can provide
a beautiful experience for those who enjoy the countryside and wish to visit the many towns and villages of great character.
here
You may be interested to view two of our websites featuring the work of highly regarded wildlife artist, David Shepherd
click
and the signed prints and drawings of Britain's most sought after artworks by L.S. Lowry
view
here.