Gift of Gladioli
Sir William Russell Flint
P.R.A., P.R.W.S., R.S.W., R.O.I., R.E.
---
---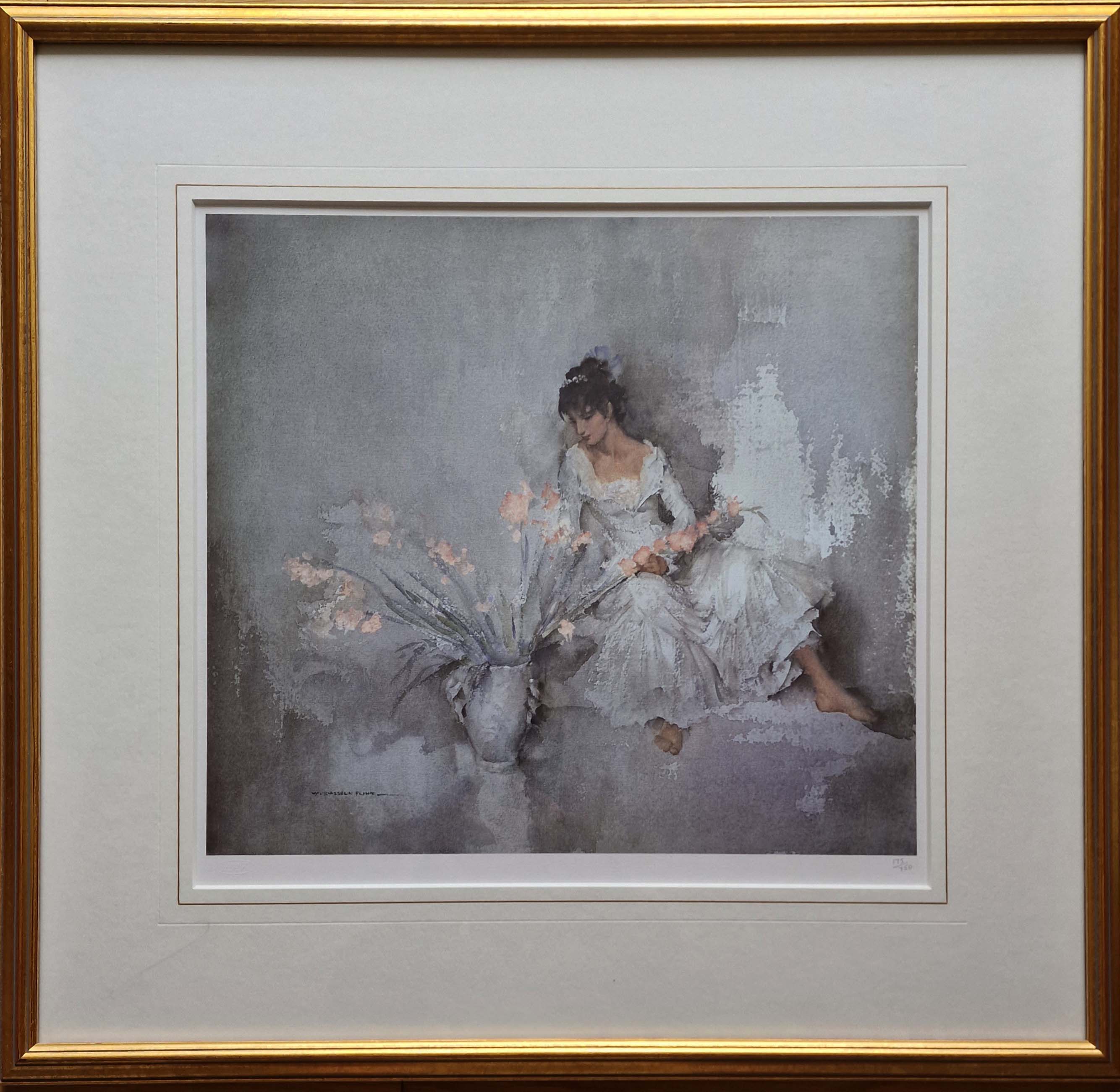 'Gift of Gladioli'
Limited edition of 750
Date of publication Tuesday, 11th November 2003
Image Size 17" X 15".
Complete with wash/line mount
'A Gift of Gladioli'

One of the greatest qualities if Russell Flint as a waterdolourist was his ability to capture the shape and texrure of different materials.
The complex folds and flounces of skirts and fresses were perfectly conveyed and through his use of light and shade he provided substance to the figure
as well as to the costume.
This quality is evident in 'A Gift of Gladioli', but what is just as important is the unusual composition.
The model in this instance Cecilia Green, is depicyed partly reclining against a typical indistinct studio background.
All her thoughts and attention are concentrated on the blooms, which in conplete contrast to her own quiet contemplation,
are bursting out of their vase in all directions in a flurry of movement. The spreading shape of the blooms, coupled with the positioning
of the vase to the front of the mofel, creates a satisfying shape and depth to a particularly effective and harmonious study.
---
Should you wish to explore the area in France that Sir William spent so much of his time; This holiday house in the Dordogne can provide
a beautiful experience for those who enjoy the countryside and wish to visit the many towns and villages of great character.
You may be interested to view two of our websites featuring the work of highly regarded wildlife artist, David
Shepherd
and the signed prints and drawings of Britain's most sought after artworks by L.S.
Lowry
here.
Sir William Russell Flint paintings and signed prints for sale