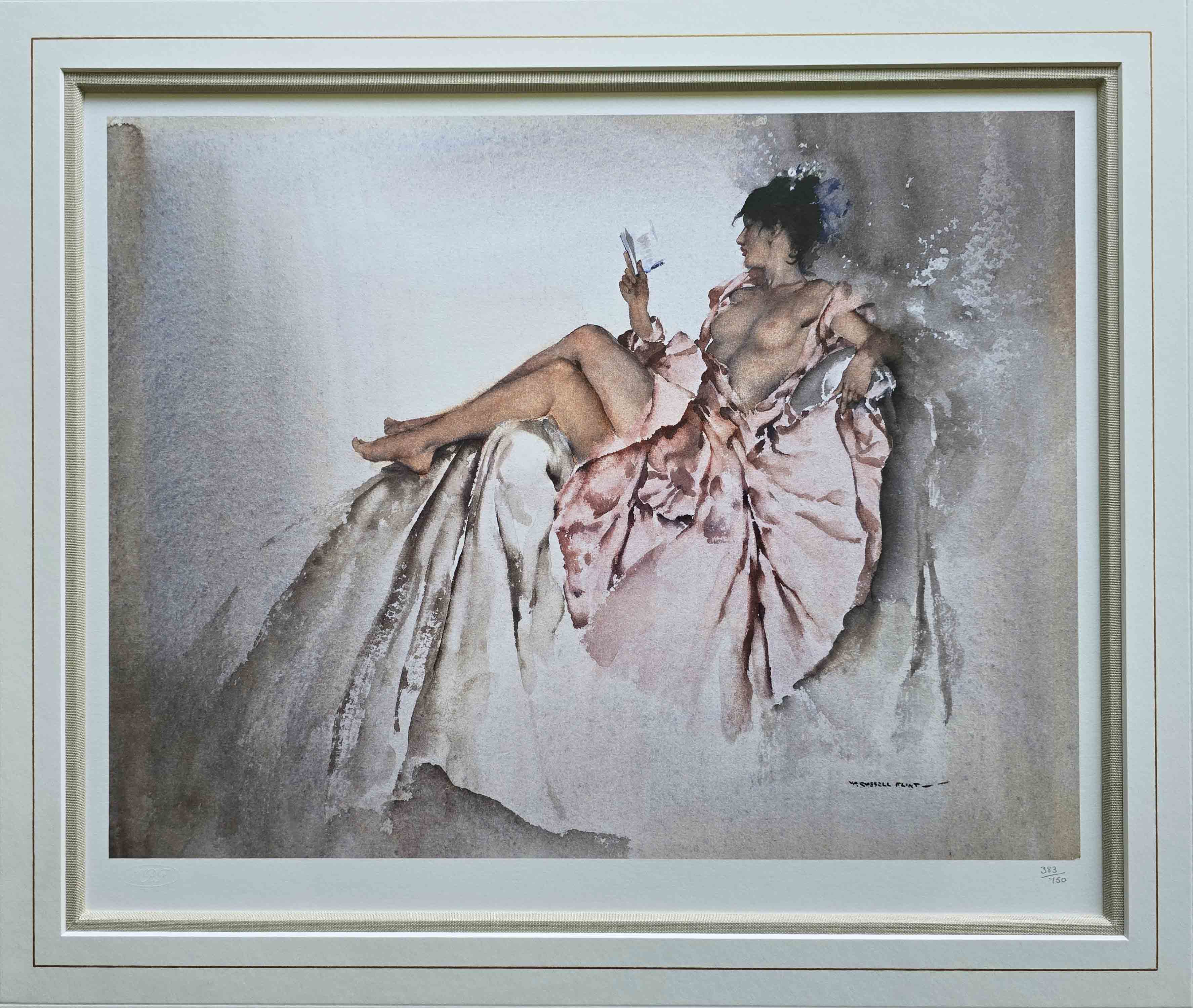 'A Book of Poems'
Limited edition of 750
Publish date 12th November 2002
Image Size 10.5" X 15".
Complete with wash/line mount

A Book of Poems
One of Sir William's favourite figure studies, this picture has never left the Russell Flint family collection and was chosen by the artist to be illustrated in his post-humously published autobiography 'In Pursuit'.
'A Book of Poems' appears on page 197 accompanied by the following lines written by one of Sir William's closest friends and regular painting companions, the artist and poet Adrian Bury. 'Tell me of Venus rising from the sea,
Of Pschye's fingers ringed by Cupid's hair,
Of Helen's reckless pride, and Hero's care,
Of Daphnis, Chloe, and Persephone'
Painted in 1962 'A Book of Poems' is a classic example of a single figure studio study, in this instance featuring Sir William's favourite model, Cecilia Green.
Such studies were only painted after great deliberation on his part; to reach a satisfactory composition he liked his models first to hold a variety of graceful poses, not all of which were comfortable by any means. For her own part Cecilia encouraged him to paint her seated or lying down as she disliked standing.
Sir William was fascinated by the relationship between model and artist, and summed it up in his autobiography as follows. 'On her side there must be patience sustained by at least a modicum of vanity; on his side indutry and pride in using all his skill to depict her'.
---
---
Should you wish to explore the area in France that Sir William spent so much of his time; This holiday house in the Dordogne can provide
a beautiful experience for those who enjoy the countryside and wish to visit the many towns and villages of great character.
here
You may be interested to view two of our websites featuring the work of highly regarded wildlife artist, David Shepherd
click
and the signed prints and drawings of Britain's most sought after artworks by L.S. Lowry
view
here.
Contact Email: d@art.info
Phone: 01623 799 309
Noticeboard, original
circular pool
Versailles, original
Versailles