Reclining Nude II
Sir William Russell Flint
P.R.A., P.R.W.S., R.S.W., R.O.I., R.E.
---
---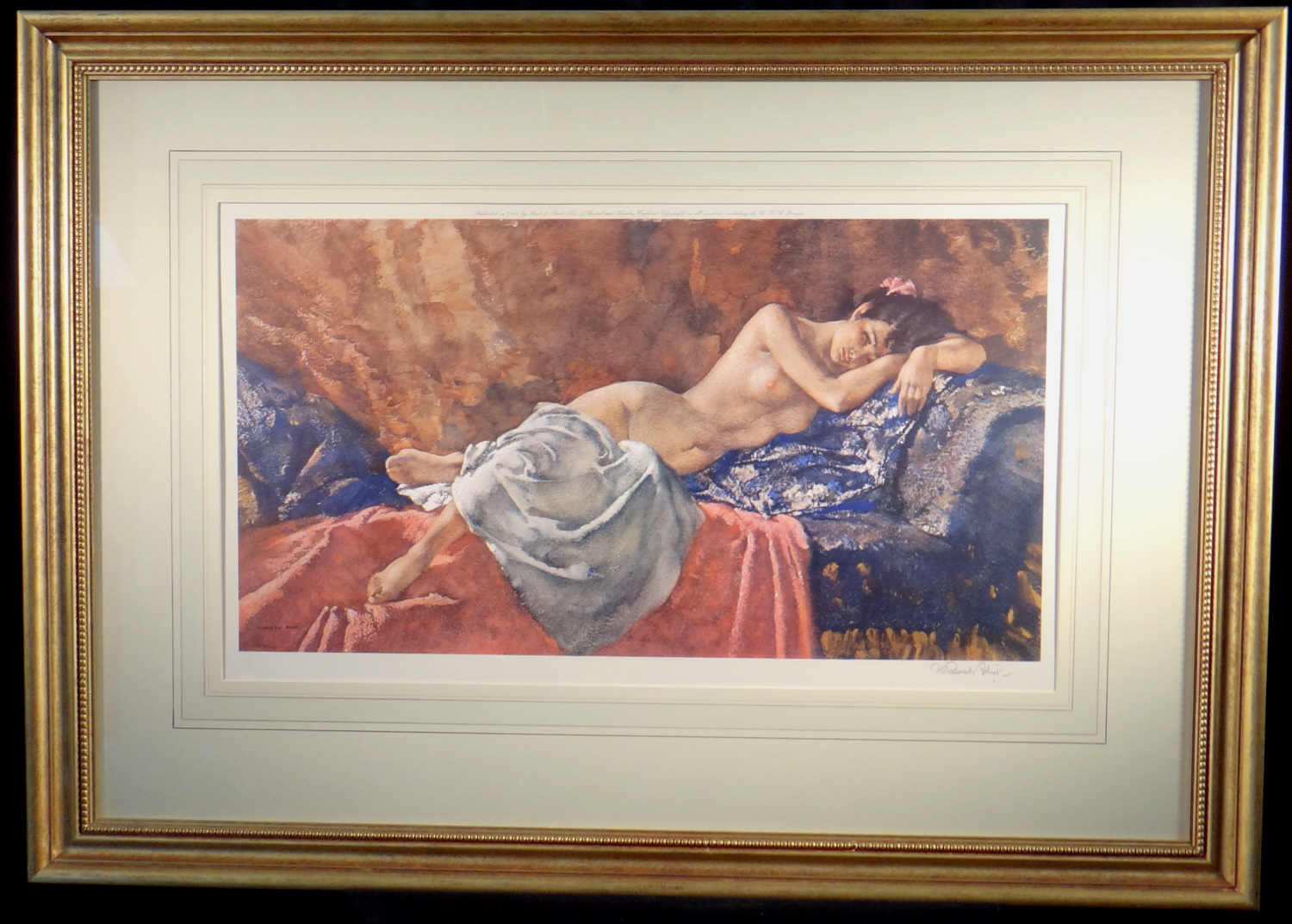 'Reclining Nude II'
Date of Publication 1967.
Signed,Limited Edition print of 850.
Image size 12.5" x 22.75"
A classic image by Sir William Russell Flint. Highly regarded as one of his finest paintings.
---
This image was often paired with the signed limited edition
'Reclining Nude I'
..
both of these paintings are regarded as some of Russell Flint's finest work.
Of the extensive collection created and numerous women depicted through many of them only a small handful have been deemed Nudes. By saturating
the background with complimentary colours to the navy's, blues, and reds in the foreground our eyes are drawn to the anomaly of colour. In this
instance, the white sheet. A continuation of the series and an ideal starting point. Although the piece uses a similar layout, by this use of more
vivid colours the piece ends up feeling altogether different. After beginning from the same point as in his other piece, your eye is then drawn to the model whose form follows and intertwines perfectly with
the strokes of the material. After which you begin to notice the smaller details such as to the trim of the chair and an extra blanket in the background. A clever use of subject separation can be seen at the model's head where she wears a bow. Normally with the colours chosen for the background
this would have bled into the model and made the image less sharp, but by adding a small dot of bright colour it separates the subject from the background. It had been 2 years since his previous piece in the series and of many of his watercolour pieces Reclining Nude II is one of the bolder
pallet choices used.