Zoronga
Sir William Russell Flint
P.R.A., P.R.W.S., R.S.W., R.O.I., R.E.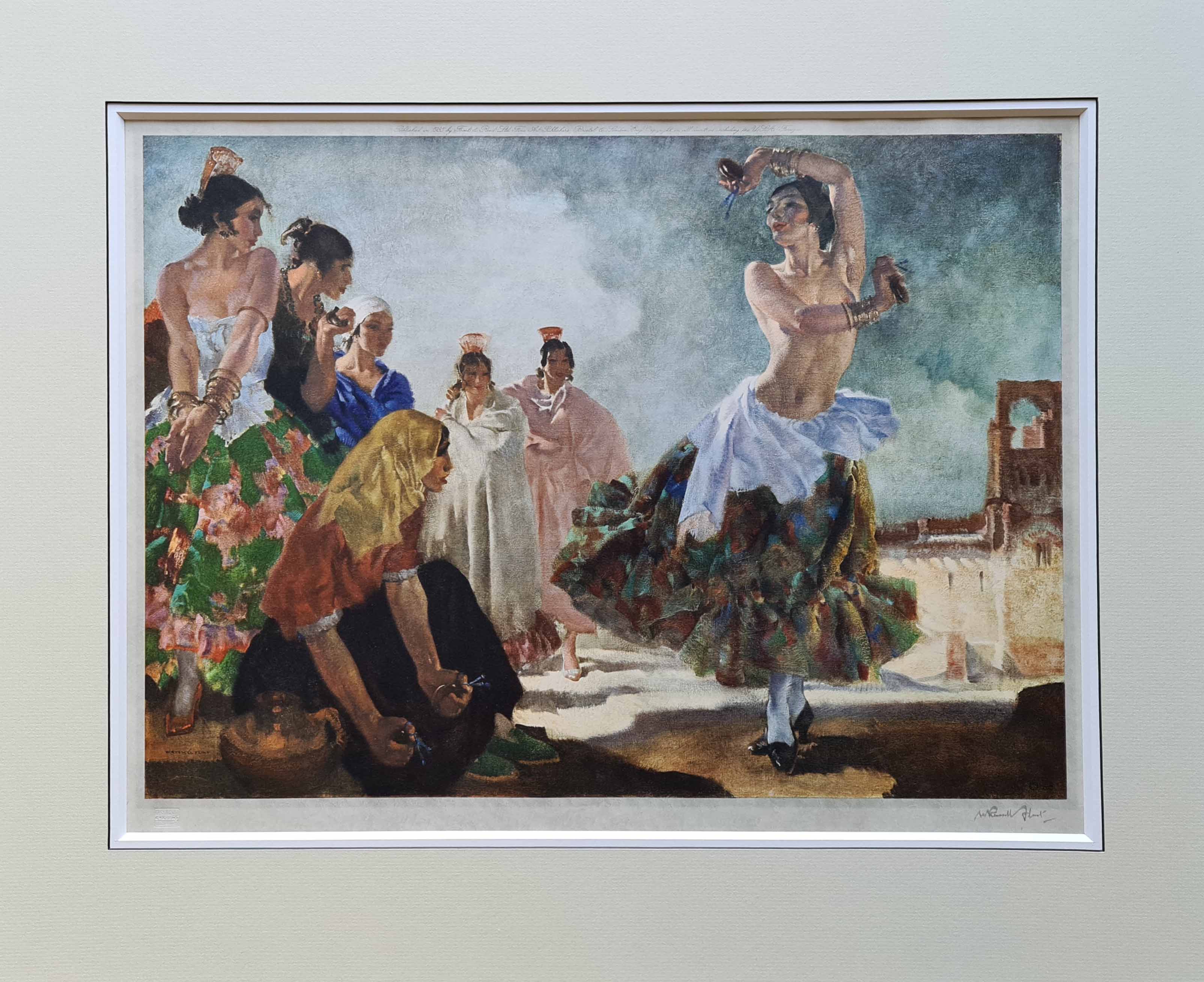 'Zoronga'
Date of Publication May, 1936
Signed,Limited Edition print of 300.
Image size 15.75" x 21.21"
Spain, bull-fights and Flamenco dancing are probably as synonymous in the public mind as are Russell Flint, Spain and gypsy girls.
Although strictly speaking, Flamenco is only one of several main groups of Spanish folk dance, it is generally accepted that the whole art-form is of ancient eastern origin.
The general style, and most obviously the hand and arm movements, are strongly suggestive of the Indian rather than European dances, presumably brought by nomadic groups
via Egypt and the Phoenicians to the western Mediterranean many centuries ago. Choreographies exist in Spain today dating from the time of Hellenic supremacy
whilst later Roman writers often praised the qualities of the dancing girls of Spain.
Recognized worldwide as a master of watercolour painting, Sir William Russell Flint's work enjoys the prominence of some of the finest and most experienced paintings of our time.
You may also be interested to view two of our websites featuring the work of highly regarded wildlife artist, David Shepherd read more
and the signed prints and drawings of Britain's most sought-after artworks by L.S. Lowry read more here. Sir William Russell Flint paintings and signed prints for sale.
Should you wish to explore the area in France that Sir William spent so much of his time; This holiday house in the Dordogne can provide
a beautiful experience for those who enjoy the countryside and wish to visit the many towns and villages of great character.
Sandrine, red chalk https://www.russellflint.net/russellflint-original-portraitofdenise.html morning dinard ripples and chatter argument on the ballet model for elegance original from a window in venice roxanne original-angevininterior judgementofparis acquiescentangels VariationsII nude-redchalk bath of Susannah The festival dress cordes privacy books, vol II St. Jean de Cole aquaduct, frances murray poolofechoes original, river Dronne Vignette Corisande Ancient Perigord La porte Chapelle Compiegne Sensitive plants, Russell Flint russellflint-redterrace