Madame du Barry.
Sir William Russell Flint
P.R.A., P.R.W.S., R.S.W., R.O.I., R.E.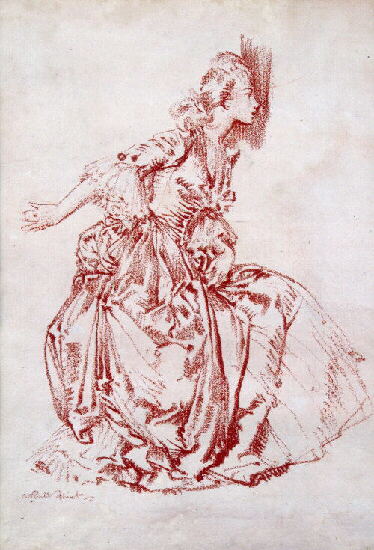 Madame Du Barry
signed 'W. RUSSELL FLINT' (lower left)
An original red chalk drawing of a model, (Cecilia Green)
by Sir William Russell Flint
Image size 5.5 x 8 inches
Sold
A fine example of Sir William Russell Flint's work using a red chalk pencil.
This original red chalk drawing has been wonderfully executed to show the intricate folds of material on Madame du Barry's dress.
Using just one colour, he manages to give remarkable depth and shade.
The paper used by Russell Flint was always the finest quality handmade antique paper, he would often purchase a new unsude book from the printers and use the pages.
We have many fine examples of Sir William Russell Flint's red chalk drawings for sale.
If these might be of interest please see.. Original paintings and drawings.