---
Ancient Dooway, Cordes
Sir William Russell Flint
P.R.A., P.R.W.S., R.S.W., R.O.I., R.E.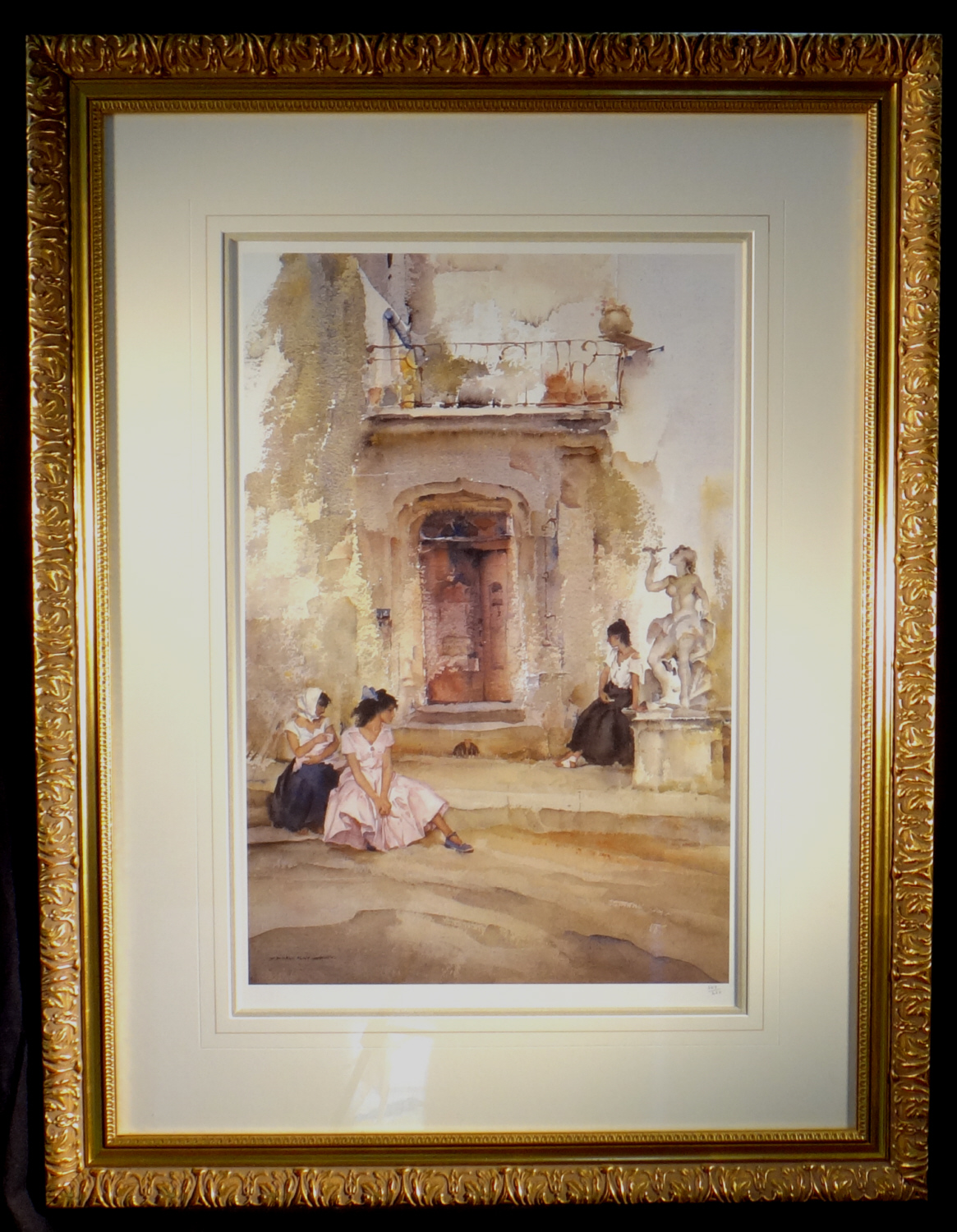 'Ancient dooway, Cordes'
Limited edition of 650
Published May 2002
Image Size 21" X 14".

---
Founded as a fortress town in 1222 by the Count Raymond VII of Toulouse, a distant ancestor of Toulouse-Lautrec,
the medieval hillside town of Cordes-sur-Ciel (Cordes in the sky) seventy six kilometres north east of Toulouse
in South West France was a popular and inspiring location for Sir William.
He greatly admired its antiquity and produced a series of pictures of the town, including 'Market Hall, Cordes'
which was published by thr Medici Society in 1963 as a signed, limited edition.
'Ancient Doorway Cordes' is a fine example of that combination of figures and
architecture so admired by collectors. As usual Sir William would have painted the doorway and statue
on the spot whilst the figures would have been added later from models in his studio.
He was quite deliberate in the number of models depicted, as he found that an odd number of figures
balanced better than an even number. 'For centuries the trio has been an attraction; thrice three Muses,
three Goddesses or three Graces. Now I have my own three washerwomen, three gypsies, three bathers,
or more simply, three models, obewdient- in theory at least- to my slightest caprice.'
---
---
Should you wish to explore the area in France that Sir William spent so much of his time; This holiday house in the Dordogne can provide
a beautiful experience for those who enjoy the countryside and wish to visit the many towns and villages of great character.
here
You may be interested to view two of our websites featuring the work of highly regarded wildlife artist, David Shepherd
click
and the signed prints and drawings of Britain's most sought after artworks by L.S. Lowry
view
here.