The Hotel Terrace-Pont du Gard
Frances Murray Russell Flint
---
---
Francis Murray Russell Flint RA RSA RWA (1915 - 1977)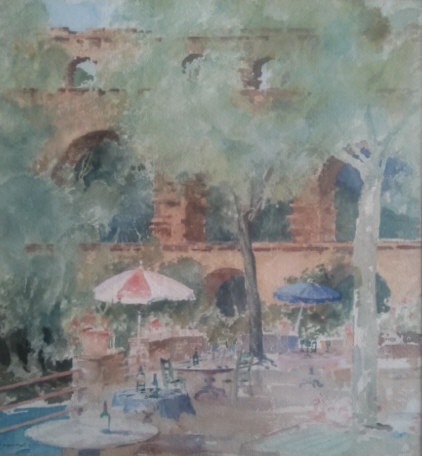 The Hotel Terrace-Pont du Gard
signed 'Francis Murray Russell Flint'
Image size 13.5" x 14.5"
Sold
This great Roman aquaduct is a magnificent feature in the south of France (La Gard).
It exists to this day and attracts many vistors, who enjoy walking along it in the blistering summer heat.
When travelling directly south from Paris to Montpellier this structure can easily be seen from the A6 motorway.
Recognized worldwide as a fine watercolour master, Sir William's work enjoys the prominence amongst a collection of the finest and most experienced painters of our time.
Sir William Russell Flint paintings and signed prints for sale

Work by highly regarded wildlife artist,
David Shepherd
has been hignly sought after for many years, and with his life long work for animal conservation,
He has become one of most prominent consevationists, worldwide.
and the signed prints and drawings of Britain's most sought after artworks by L.S. Lowry
read
more.
The work produced by these artists is regarded as the some of the finest ever produced in their own particular field.