---
Dance of a Thousand Flounces
Sir William Russell Flint
P.R.A., P.R.W.S., R.S.W., R.O.I., R.E.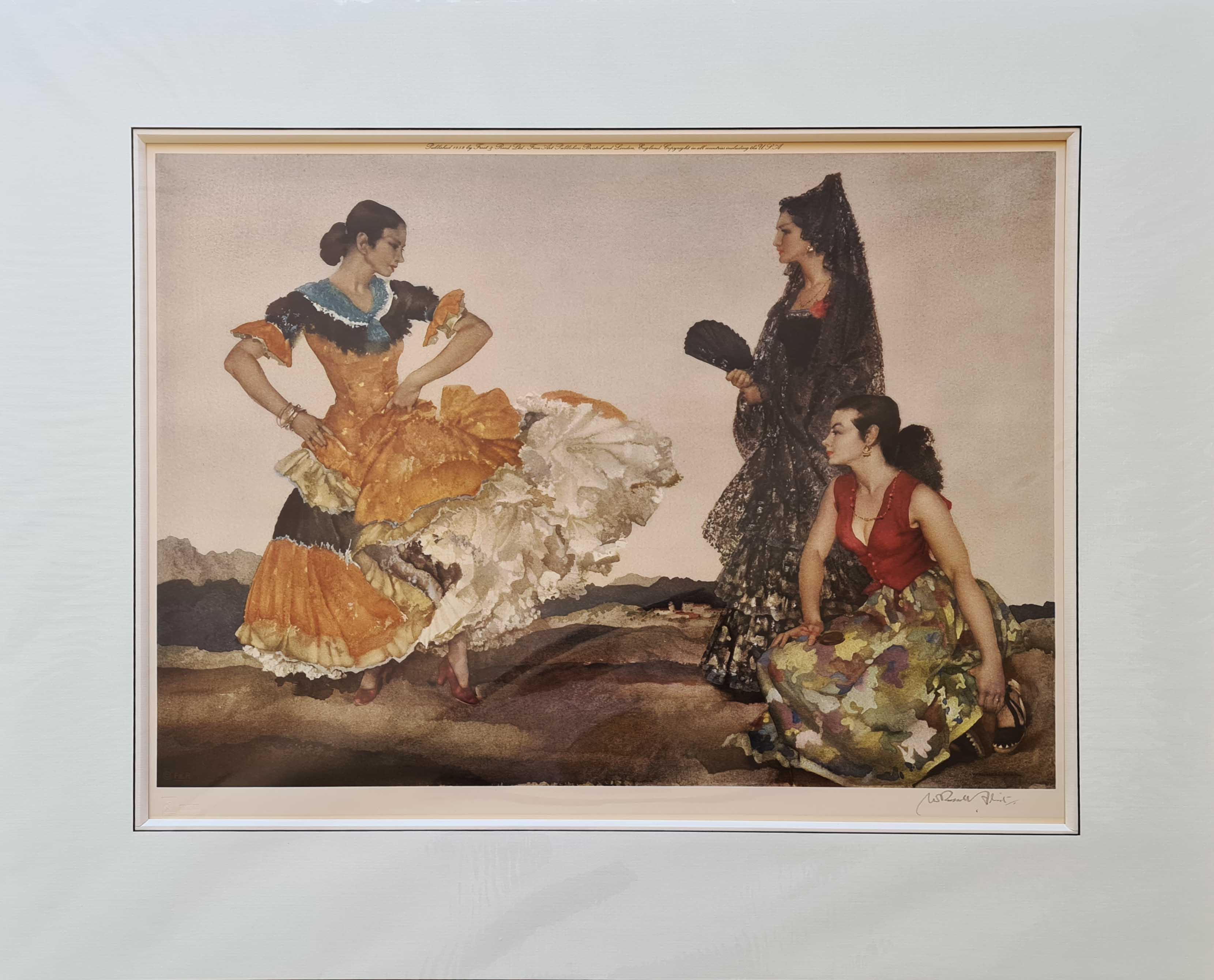 'Dance of Thousand Flounces'
Date of Publication October, 1952.
Signed,Limited Edition print of 625.
Image size 18" X 24"
For many, the archetypal Russell Flint must be this study, originally entitled, "Ladies of Almeria".
Certianly it is representative in many ways; in commercial terms it spearheaded the increase in demand for signed prints
after his death, being the first to sell for over £1,000, having been published in 1952 for six guineas.
It is representative also of that populat but enigmatic group of paintings depicting Spanish dancers in a Spanish landscape, for which the public at large seem to remember him.
Enigmatic because he reallyonly painted in Spain twice; France was his country!
His surrogate Spain was created in the studio with the impression of the serrated peaks and dusty plains augmented vicariously by his Spanish models - a mystery in themselves.
Here the dancer is his beloved Consuelito Carmona, a professional dancer and model who worked for him from the early 1930s and whom he paid thirty shillings a day for poising for this subject.
Her real name was Mrs Mary Vaughan, and her sister Bernadette Turner, and Bernadette's daughter Sue (known as Yasmine), were the two other models.
Dance of a thousand flounces has always been regarded as one of Sir William's most sought after signed limited edition prints, it encompasses everything he is so well known for.
The intricate flambouyant Spanish dresses, the models in their various poses.
Russell Flint, signed limited edition prints
A website that may be of particular interest, shows the work of L.S. Lowry who painted the working lives of everdayday people in the north of England during the 1960s.
It has now become of the great importance to both art collectors and and financial investors.
The signed prints and paintings of L.S. Lowry have been increasing in value on a regular basis and his work according to recent reports,
is now of greater investment than many modern artists.
div class="fb-share-button" data-href="https://www.russellflint.net" data-layout="button_count" data-size="small">
Share