The grandson of a prolific artist visited Bath this week to track down one of his Grandfather's paintings
after seeing it on the Antiques Roadshow.
The portrait by Sir William Russell Flint painted in 1962 was featured on the BBC programme on Sunday after its current owner Toby Talbot sent it to the Assembly Rooms when the show was filmed in April.
Mr Talbot, a dentistry consultant at the Talbot Clinic in Bathampton, has owned the painting for five years after it was recovered from a dusty vault where it had been for more than 30 years. Russell Flint's grandson Jamie saw it on the show and contacted Mr Talbot to arrange to see it.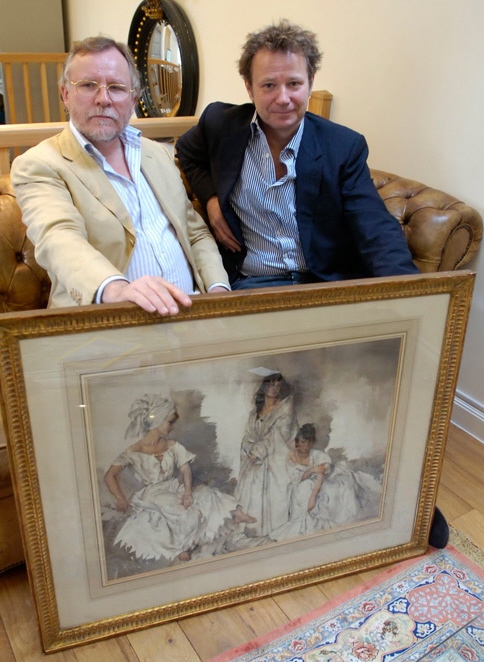 Jamie said his family were constantly searching for original pieces of his grandfather's work and, with the correct permission, copied them to keep his paintings in circulation.
The 46-year-old said he remembered little about his grandfather who died when he was seven. He said:
"He was a very kindly man but I don't have a huge recollection of him. I love all of his paintings and we have a house full of them. This particular one was kept in a vault for more than 30 years and when you come and see it you realise what a fabulous picture it is. Finding pictures like this of his is getting rarer and rarer."
Before the programme on Sunday, which saw the painting valued at £50,000, it hung on the wall of the dental surgery in Warminster Road. It has since been removed from the premises for security reasons.
Mr Talbot said he was talking to galleries in the city and hoped it would go on display for all to see. He said:
"I consider art is for public consumption – I refuse to let it sit in a bank vault."
Russell Flint was an acclaimed Scottish artist, well-known for his watercolour paintings, who lived between 1880 and 1969. Mr Talbot added:
"He is regarded in the 20th century as the most accomplished and brilliant watercolourist the world has produced."
He said he had fallen in love with Flint's work several years ago when he was a junior surgeon. He said:
"I lived with a friend in the north of London and she had than 20 paintings in her house. "Every day I came in or went to work I would walk past these canvases and I absolutely loved them. "I waited 20 years for this piece to resurface."
Courtesy of the Bath Chronicle
The history of Russell Flint. 1880-1969.
Sir Russell Flint, began life in Edinburgh on the fourth of April Eighteen eighty.
His father Francis Wighton Flint, was a watercolourist and designer,
It helped Russell Flint considerably that his family was involved in artistic careers. After studying at Daniel Stewarts School, he studied at the Royal Institution College of Artwork in Edinburgh, Scotland. It was in this environment that he was able to develop his own unique style on paper
For six yrs. he trained as a draughtsman in an Edinburgh printers, this undoubtedly helped to give him the discipline that went towards his sucess as one of the world's most outstanding watercolourists. At the begining of the century Russell Flint took a job at the Illustrated London News where he would draw illustrations. In this time before photographs, illustrations and drawings were not only important sources of information, but great accuracy was needed to produce realistic and true images for books and magazines.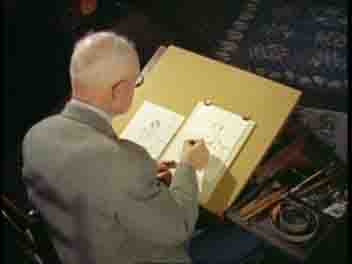 The
Illustrated London News
had a worldwide readership, (unlike the present day, the British Commonwealth stretched across the globe) and the artist William Russell Flint became a familiar name throughout the empire which led to his international recognition as a watercolourist.
Great classics... "Thomas a Kempis","The Song of Solomon", Mallory's "Morte d'Arthur", Chaucer's "Canterbury Tales" and Homer's "Odyssey" were all illustrated by William Russell Flint War broke out in 1914, during which Flint joined the Royal Navy Air Service and by 1918 he was promoted to Admiralty Assistant Overseer; This allowed him to travel back to Scotland where he studied at the art School.
After the war, Russell Flint decided to visit Europe Europe, in particular France, where he painted and drew many landscapes of the quiet countryside villages and their rural way of life, the publications of his limited edition prints illustrate much of his adventures in France. Russell Flint became an Associate member of the RA in 1924 and nine years after, was elected a full member.
Russell Flint become the President of the RSWP in 1936. Throughout the early 1940s, Russell and his wife Flint lived on a turkey farm in Devonin Devon. As a previous officer of the RAF, he was permitted to enter Devonport Dockyard,(a limited edition of this painting was released, and described as a masterpiece of perspective) and paint, at will.
William Russell Flint and his wife Sybil returned to their home at Peel Cottage, Campden Hill, London in nineteen forty five, and two years later Russell Flint knighted. Sir William Russell Flint greatly enjoyed his work, and painted until his death at the age of 89 years old. His painting as a professional artist changed from one decade to the next, and his style matured into a very fine portrayal of textures that has never been surpassed.
Sir William Russell Flint's work has given and continues to give enormous pleasure to many admirers across the globe.
The signed limited edition prints and original paintings, have become very collectable, and his paintings have a great following and are known as some of the finest watercolour paintings in the world today.
Visit the studio in Nottinghamshire with over 500 Limited editions and original paintings by Sir William Russell Flint
He was a much liked architectural, watercolour artist, who was most famous for his paintings of female nudes.In the art world,
Russell Flint was a revered by his colleagues. His father was an industrial artist and as a boy he joined a lithographic company where he spent six years learning about the printing industry and the many different techniques used. Russell Flint was born in Edinburgh, Scotland in eighteen hundred and eighty, his gift for painting was soon impressing both his fellow artists and the general public.
During his student days at the Edinburgh Royal Institution Faculty of Artwork, and after working for six years at the lithographic printing company, he made the decision to live in London and work as an illustrator in the world of medicine, and then in 1903 he became an illustrator for the Illustrated London News which , due to worldwide distribution, publicised his work across the globe. In nineteen hundred and five he married an admiral's daughter, Sibylle Sueter in 1905 and his work continued to flourish so that two years later he was able to become a freelance artist which gave him the opportunity to illustrate several classical special editions for example; Mallory's 'Morte D'Arthur', Chaucer's 'Canterbury Tales' and Homer's 'Odyssey'.
During WW1 his job was the Admiralty assistant overseer of Airships . He went back to his place of birth, Scotland, and some years later painted a watercolour titled ' Hilda's Bonnet' on a small piece of material from HM Airship 24 which he had commanded.
After the Geat War, Russell Flint's creative profession started to bloom. He travelled in France and Spain, the place he painted beautiful pictures showing the local landscapes and regional way of life.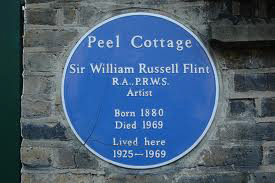 In 1924 he was asked to join the Royal Academy as an associatemember, and nine years laterhe was given the status of full member in 1933. Three years later he became President of the Royal Society of Painters in Watercolour. Leaving their home in Devon, where they had lived throughout the Great War, Russell Flint and Syblle decided to return to Campden Hill, London, which proved a tremendous success for Russell Flint as the nation was begining to recover from the years of war, and begining to enjoy the arts once more.
His expertise with the watercolour medium and his talent in painting nudes, created an unique manner of painting which became world famous.
William Russell Flint was made Sir William Russell Flint in nineteen forty seven, and fifteen years later his work was given supreme prominence by a retrospective exhibition in the Diploma Gallery of the RA. During this period, Charles Wheeler, who was the President of the Royal Academy, remarked that Russell Flint's art was an incredible feat and a 'baffling skill'.
In his later years, due to his artistic and financial success, Russell Flint was able to travel extensively across Europe, particularly in France
where he was a prolific painter, also enjoying some time painting in Switzerland, Spain, Italy, and Scotland.
If you wish to visit the beautiful countryside and villages in the south west of France where Flint spent much of his time painting,
a beautiful holiday house in Dordogne is to let throughout the year.
We have specialized in the paintings and prints by SirWilliam Russell Flint for over thirty years, and have on display over
500 edition prints, signed and unsigned; Also original watercolour paintings and red chalk drawings, for sale.
The limited edition prints, particularly the signed, limited edition prints (ie. pre 1969) were very sought after at the publication date,
and the entire edition could be sold out within several hours of release.
There is no 'second' edition, these are the original signed, limited editions that have over the years become highly collectable and
sought after works of art, some of which are over seventy years old.
Recognized worldwide as a fine watercolour master, Sir William's work enjoys the prominence amongst a collection of the finest and most experienced painters of our time.
Should you wish to explore the area in France that Sir William spent so much of his time this holiday house in the Dordogne can provide
a beautiful experience for those who enjoy the countryside and the many towns and villages of great character.
You may be interested to view two of our websites featuring the work of highly regarded wildlife artist, David Shepherd
read
more
and the signed prints and drawings of Britain's most sought after artworks by L.S. Lowry
read
more